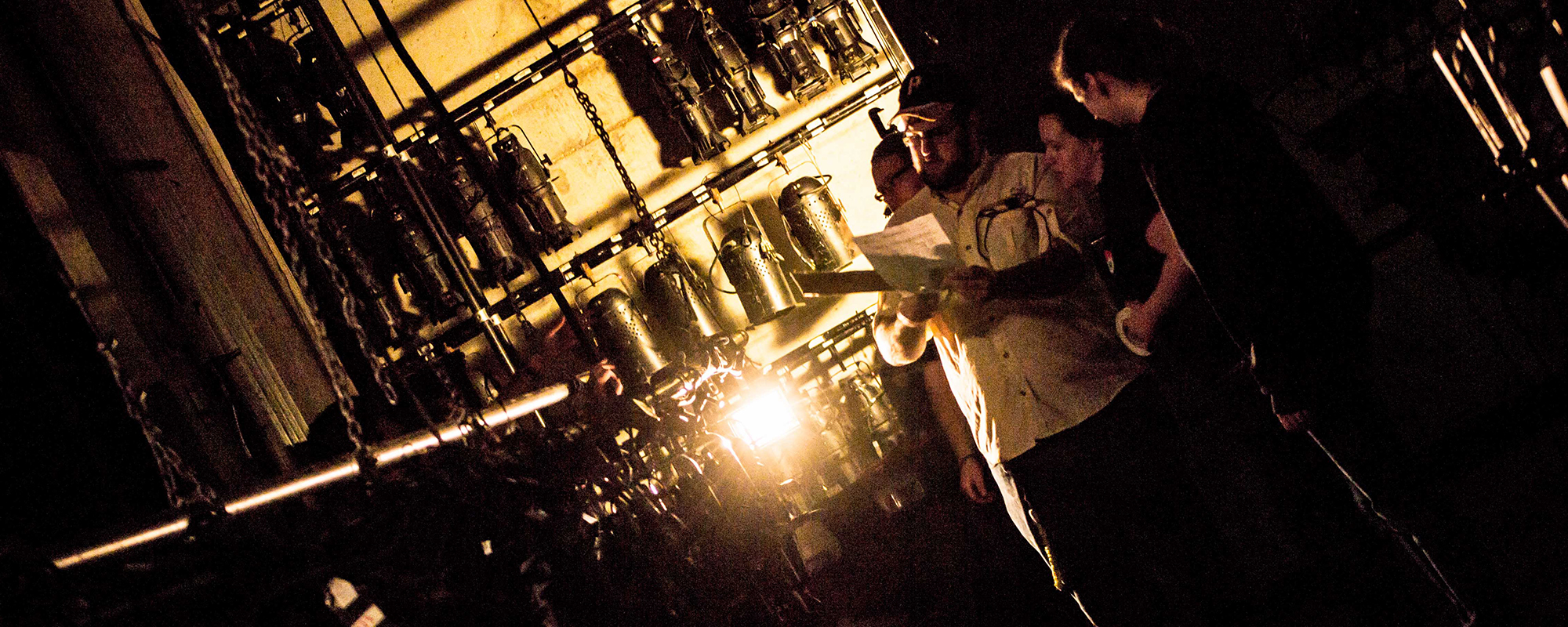 Applications are now being accepted for 2019 Design and Production Internship!
Apply Here: Internship Application
In 2010 Des Moines Metro Opera launched a pilot internship program in technical theatre by restructuring six existing positions on the staff in an effort to expand its educational programming, to mitigate rising costs to produce opera and to increase sustainability in the production department. Now 9 years old and growing, the Design & Production Internship Program at DMMO is comprised of eighteen positions in every field of Theatrical Production from Stage Management to Wigs and Makeup Design. The mission of the Des Moines Metro Opera Design and the Production Internship is to provide students in the theatre arts, who wish to expand on their academic studies, an environment to hone theatrical skill sets, gain valuable professional experiences, and expand their theatrical connections needed for a successful start in a career in the arts.
Members of the 2018 Design and Production Internship Program
Twenty interns came from 13 different states picked from over 225 applications (Acceptance rate of 7%).
96% came from universities and colleges working on a B.A or B.F.A in some aspect of theatre design or production.
Interns are picked from all different backgrounds: Technical Production, Technical Theatre, Theatre Arts, Stage Management, & all design degrees.
Average age of applicant varies from year to year but most applicants are between 18 and 21.
Members of the Internship Program get to work alongside and learn from
30 Production Staff, 8 Designers, and 4 Directors from around the country and world.

Production Staff and Designers who work at a variety of opera companies, theatre companies and production companies during the year.

At Des Moines Metro Opera the Design & Production Internship is a concentrated nine-week training and work program. Over the nine weeks interns participate in talkbacks with directors, designers, and production staff. Interns also attend several classroom workshops including refining a resume and portfolio, networking, websites, freelancing, and production contracts; as well as receive hands-on instruction in skill-based workshops which include: rigging for the stage, welding, and stage painting. Interns also receive instruction in how to work safely in a theatrical environment - taking workshops on stage safety, personal protection equipment, respirators, and basic first aid. All the while interns are working alongside 38 staff and design members from professional theatre and production companies, helping interns expand their professional network of contacts.

Design and Production Internship:
Interns receive a daily stipend, free housing, and a travel stipend.

Early response is encouraged; notifications for phone and in person interviews will begin at end of December 2018. All applicants must be over the age of 18.

Design and Production Internship Departments:

Stage Operations: Crews technical and dress rehearsals, work notes, repertory changeovers and run crew. 6 interns.
Carpentry Department: Works in the shop in the production of two shows and assist with load ins when needed. There are no run crew duties. 1 intern .

Paint Department: Works with the paint crew in the painting of all set pieces, drops and paint notes. This department has a varied schedule including overnights. There are no run crew duties. 1 intern.

Properties Department: Works with the construction, alteration, and fabrication of all props. Run Crew Chief and Interns run shows and assist properties artisans in notes and repairs. 2 interns.

Wardrobe Department: Works on assisting fittings and alterations for seasonal costume rental with some costume construction. Interns also assist the Wardrobe Supervisor with the running of performances as dressers. 2-3 interns.

Electrics Department: Works on hanging, circuiting and focusing of the season plot; perform daily changeovers; run special effects during productions; assist with the setup of audio/visual equipment. 2-3 interns.
Sound Department: Work with Sound Supervisor on the setup of all audio and visual equipment. Additionally, works with the Electrics Department during rep changeovers. 1 intern.

Stage Management Department: 3.5 weeks of rehearsal, technical rehearsals, running shows. Each intern is assigned to two productions. 2 interns.

Hair & Makeup Department: Daily maintenance and setting of wigs, pre-performance application of wigs and makeup and assist with chorus quick changes. 2 interns.