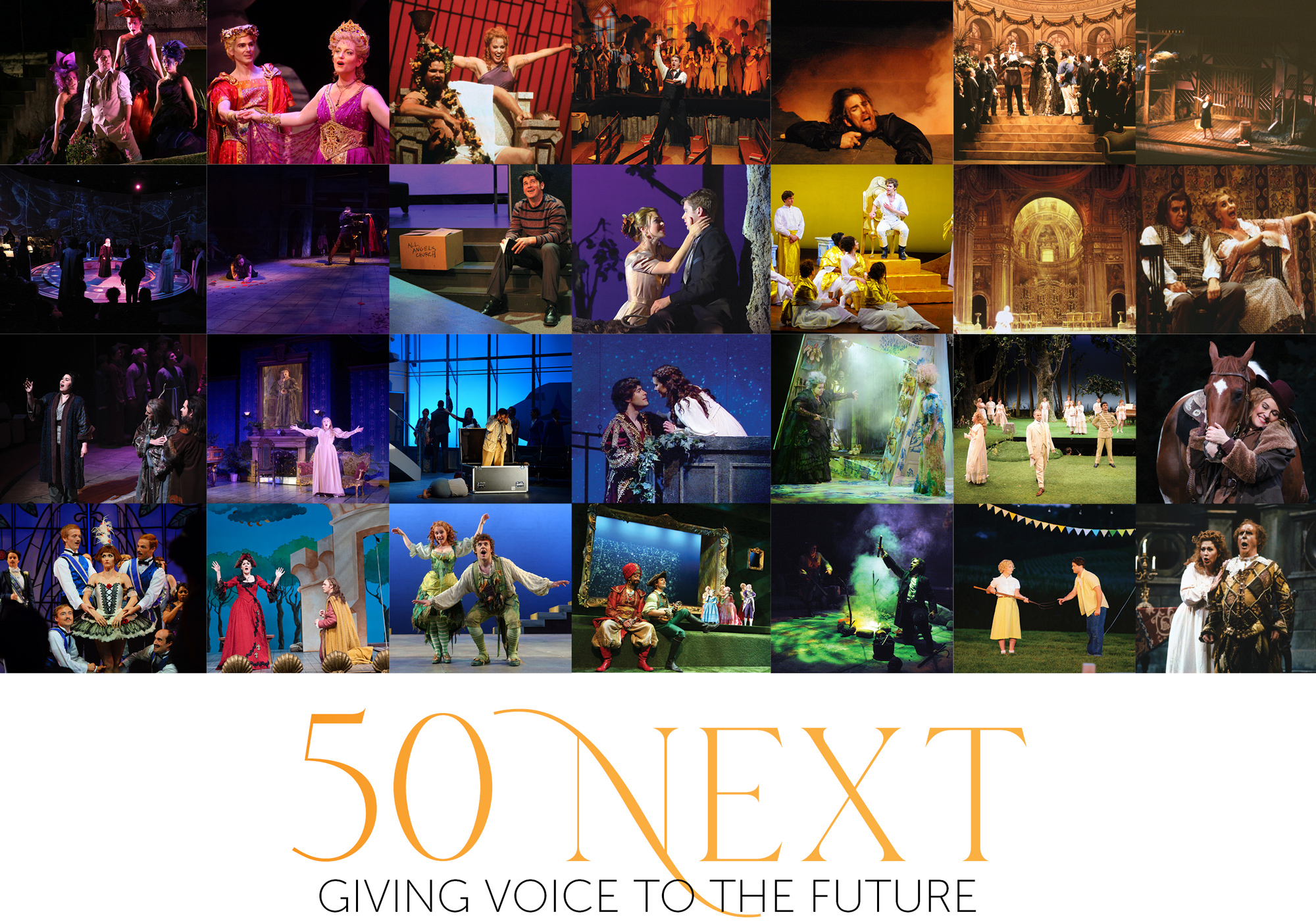 Fifty years. Five decades. Over 150 productions. Any way you state it, arriving at our golden anniversary in 2022 is an accomplishment worthy of celebration. As we reflect on past successes and toast to the Company's current health, we have the opportunity to honor those who have contributed to its growth and the obligation to secure a sound financial footing for its future. We invite you to read more about our plans and to join us in support of our 50 Next Campaign.
Our greatest strength has been the vigorous pursuit of ambitious endeavors. From our modest and improbable beginnings in 1973—when a soprano or a violist might double as a scenic painter—to the present day, which features a summer staff numbering well over 200 professional craftspeople, artists and administrators, Des Moines Metro Opera continues to grow, evolve and innovate.
Our success has been our people—people like you who believe in the value that the performing arts add to our communities. People who believe that the greatest performances shouldn't only be found in a handful of America's largest cities, but should be accessible to all of us. People like you who have risen to support the vision for professional opera in Iowa.
The impulse to sing our stories to one another is as old as time. Musical expression through song has deep roots across generations, languages and populations. Opera provides access to these songs and gives voice to our stories. Its bold vision unites great music with the visual arts, literature, technology, dance and storytelling to create the original multimedia art form. Des Moines Metro Opera performances, whether on our unique mainstage or in an elementary school gymnasium, showcase the performing arts in meaningful exchange with the community and enable all of us to understand much more deeply what it means to be human.

The Vision
CELEBRATE A MILESTONE ANNIVERSARY by honoring our artistic legacy through the creation of a new work that will give voice to contemporary American artists.
ELEVATE OUR PROFILE AS AN ARTS LEADER by utilizing a world premiere and other artistic initiatives designed to create new, unexpected community and statewide partnerships.
ACTIVATE OUR LOYAL AND BROAD BASE OF SUPPORT to leverage greater financial strength and promise for the future while enhancing our reputation as a leader in fiscal stability.
The Goal
A $15 million comprehensive campaign for the 50th Anniversary will advance DMMO's artistic legacy and build our capacity to serve a growing and diverse population. A portion of this goal will fund artistic initiatives including a world premiere in July 2022 and a major community performance at the Des Moines Civic Center in March 2022. Because it is important that these initiatives include as many of our loyal patrons as possible, 25% of each cash gift received will be allocated as consortium support to the creation of A Thousand Acres. The remaining 75% of cash gifts, along with all planned gifts, will be allocated to the campaign for endowment outlined below. The 25%/75% policy will be observed unless a gift is otherwise designated by the donor.

A Campaign for Endowment
In order to support continued high levels of artistry and community impact, while maintaining fiscal responsibility, endowment fund growth is critical. Currently the value of the endowment is just over $14 million. Yearly disbursements at just under 5% provide approximately $550,000 in annual operating support. The Company's increased standards during recent seasons have been funded through higher ticket revenues and contributions, which have increased by more than 115% since 2012. The percentage of seats sold in 2019 was over 92%, thus indicating that future growth in earned revenues has limitations.

Through the 50 Next Campaign, we seek to raise an additional $13 million for the endowment, whose annual earnings help underwrite the Company's most important activities and pave the way for future growth. As Des Moines Metro Opera looks forward to its 50th anniversary season in 2022, now is the time to add your support to ensure success and vitality for the next fifty years and beyond!
Help secure the future
DMMO exists because of people like you who believe in the power of the performing arts. We invite you to consider joining those who have already committed to helping DMMO reach its goal of $15,000,000 during the 50 NEXT Campaign. We are on our way, but we know that achieving the goal will only be possible with the help of everyone playing their part to ensure that our artistic strength is rooted in sustainability.
Consider giving
Cash or marketable stocks and bonds
Through tax-advantaged retirement plan distributions
Real estate on a case-by-case basis
Corporate matches
By including DMMO in your estate plans – Examples of estate/planned gifts are: Bequests: Wills and Living Trusts; Retirement Plans: IRA, 401(k), 403(b), Keogh; Charitable Remainder Trusts; Charitable Lead Trusts; Remainder Interest in Residence; Life Insurance; Charitable Gift Annuities
How to Give
Make a gift of liquid assets now or over up to five years through a signed pledge with a fixed payment schedule.
Make a gift that pays you or a loved one income during your life and benefits DMMO with the remainder upon your death.
Make a gift known to DMMO from your will or an estate plan.