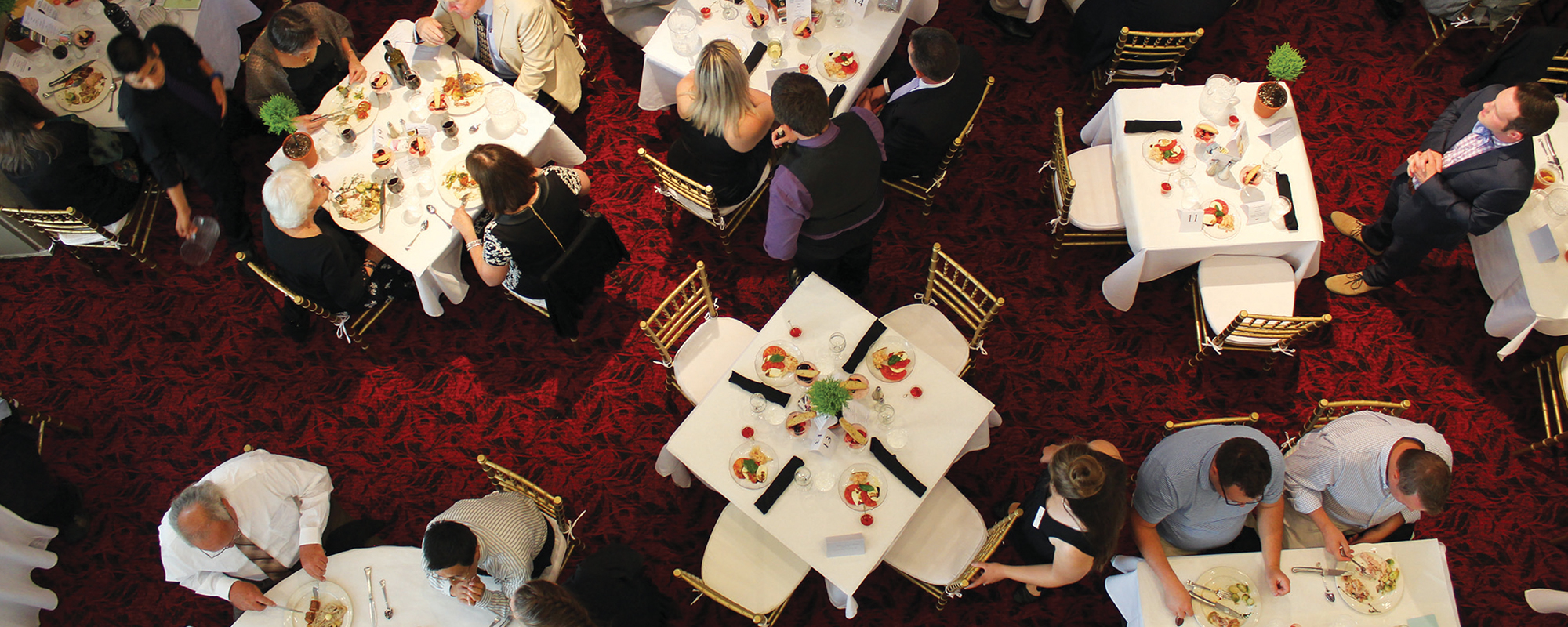 DINING WITH DES MOINES METRO OPERA
Enhance your Des Moines Metro Opera experience by enjoying our own gourmet restaurant conveniently located in the secluded air conditioned comfort of the lobby of the Blank Performing Arts Center. Michael LaValle, a well-known Des Moines chef, restaurateur and General Manager at the Des Moines Embassy Club, brings his very special magic to the menus themed for evening performances of each opera. Gateway Catering of the award-winning Gateway Market in Des Moines offers a delicious brunch menu prior to Sunday matinees.
Dinners are $45/person and begin serving at 5:00pm for evening performances. Brunches are $25/person and begin serving at 11:45am for matinee performances.

Check back in April for the official 2020 Season menus!
2019 Festival Season Menus
La Bohème:
Aperítíf: Kir Boheme

Amuse: Lavender Honey & Brie Croustade; Olive Tapenade Flatbread; Deconstructed BLT Salad Tuna Niçoise

Buffet: Julia's Crepe Gateau of Broccoli, Carrots & Mushrooms; Saffron Rice Soubise; Duck Leg Confit; Carved Roast Certified Angus Beef Tenderloin w/Iowa Morel Sauce; South Union Baguette Bread
Dessert: Dark Chocolate Gran Marnier Mousse w/Hazelnut Madeline Cookie
Candide:
Aperítíf: Boulevardier-Bourbon, Campari & Vermouth

Amuse: Make our Garden Grow Composed Salad; Westphalia's Black Forest Ham Wrapped Asparagus

Buffet: Spanish Pepper, Onion & Mushroom Mélange; Parisian Gnocchi's w/Basil; Barramundi Filet Portuguese Style; Carved Buenos Aires Beef w/Gaucho - the best of all possible sauces; South Union Epi Baguette Bread
Dessert: Mini Venetian Dore; "Glitter and be Gay" Desserts
Wozzeck:
Aperítíf: Fizzy and Foggy

Amuse: Wozzeck World under glass - Smoked Trout Crostini, LaQuercia Rosette and Green Tomato Crisps

Buffet: Carved Heriloom Cinta Senese Pork Loin Rack with Calvados Sauce; Walleye Bites; Julia's Vegetable Crepe Gateau; Spinach Spätzle; South Union Epi Bread
Dessert: Strawberry Upside-Down Torte with Blood Orange Marnier Crème
Evening dinner buffets can be altered to accommodate dietary restrictions. Please contact Patron Services Manager Dennis Hendrickson if you have any questions or would like to make a request. Please note: special requests must be made at least one full week in advance of the dinner reservation.
Matinée Brunches:
Spinach & Feta Stuffed Chicken Breast in a lemon, basil cream sauce*; Green Beans w/ toasted almonds*^; Penne Alfredo; Market Salad*^; Premier Pinwheel Platter'; South Union Garlic Focaccia; Fruit Salad; Cherry Strudel Bites & Petite Muffins

* = Gluten Free
^ = Vegan
' = Vegetarian