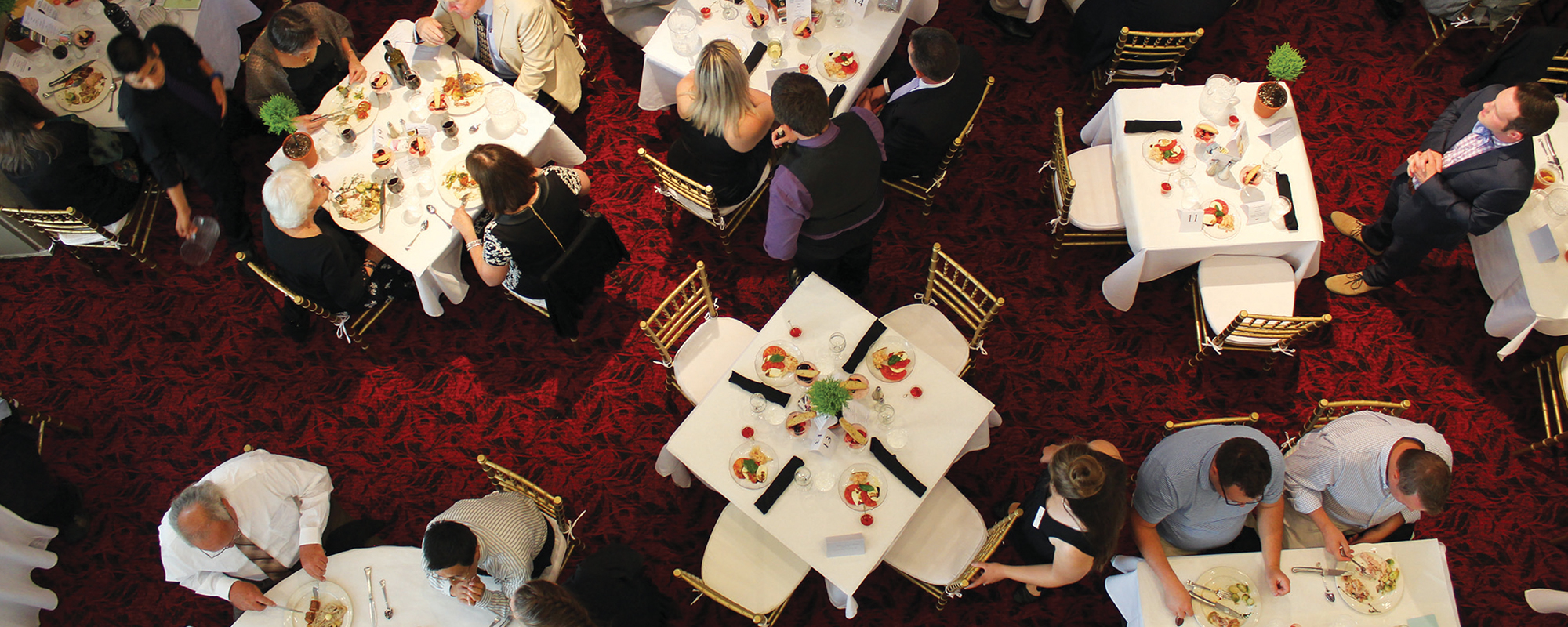 DINING WITH DES MOINES METRO OPERA
Enhance your Des Moines Metro Opera experience by enjoying our own gourmet restaurant conveniently located in the secluded air conditioned comfort of the lobby of the Blank Performing Arts Center. Michael LaValle, a well-known Des Moines chef, restaurateur and General Manager at the Des Moines Embassy Club, brings his very special magic to the menus themed for evening performances of each opera. Gateway Catering of the award-winning Gateway Market in Des Moines offers a delicious brunch menu prior to Sunday matinees.
Dinners are $45/person and begin serving at 5:15pm for evening performances. Brunches are $25/person and begin serving at 11:45am for matinee performances.
2018 Festival Season Menus
Die Fledermaus:
Elderflower Champagne Cocktail Aperitif; Brote of Smoked Trout & Caviar; Speck Wrapped Fresh Iowa Asparagus; Cabbage & Apple Salad with Champagne Dressing; Spätzle with Golden Beets & Dill; Paprikash of Free Range Chicken Thighs; Carved Iowa Pork Schnitzel & Mélange of Meat Wursts; Summer Berry Strudel & Sacher Torte Bites
Rusalka:
Plum Brandy & Prosecco Aperitif; Morel Mushroom Pumpernickel Toast; Seaweed & Watercress Salad with Stuffed Squash Blossom Garnish; Knedliky Czech Dumplings Au Gratin; Snap Peas, Rainbow Carrots & Onions in Browned Caraway Butter; Fresh Trout & Fennel with Dill Butter; Carved Baron of Pork with Rosemary Jus; Meringue Pavlova with Gelato & Strawberries
Flight:
Dark & Stormy Aperitif; First Class Flight Snacks; Iowa Heirloom Tomatoes, Ricotta Salata, Basil & Olives; Saffron Rice with Spring Peas, Fennel, Carrots & Onions; Airline Chicken Breast with Spinach & Prosciutto; Skate Wings Piccata-Style; Carved Iowa Angus Beef Tenderloin with Morel or Horseradish Sauce; Petit Flourless Chocolate Tortes with Orange Crème Anglaise