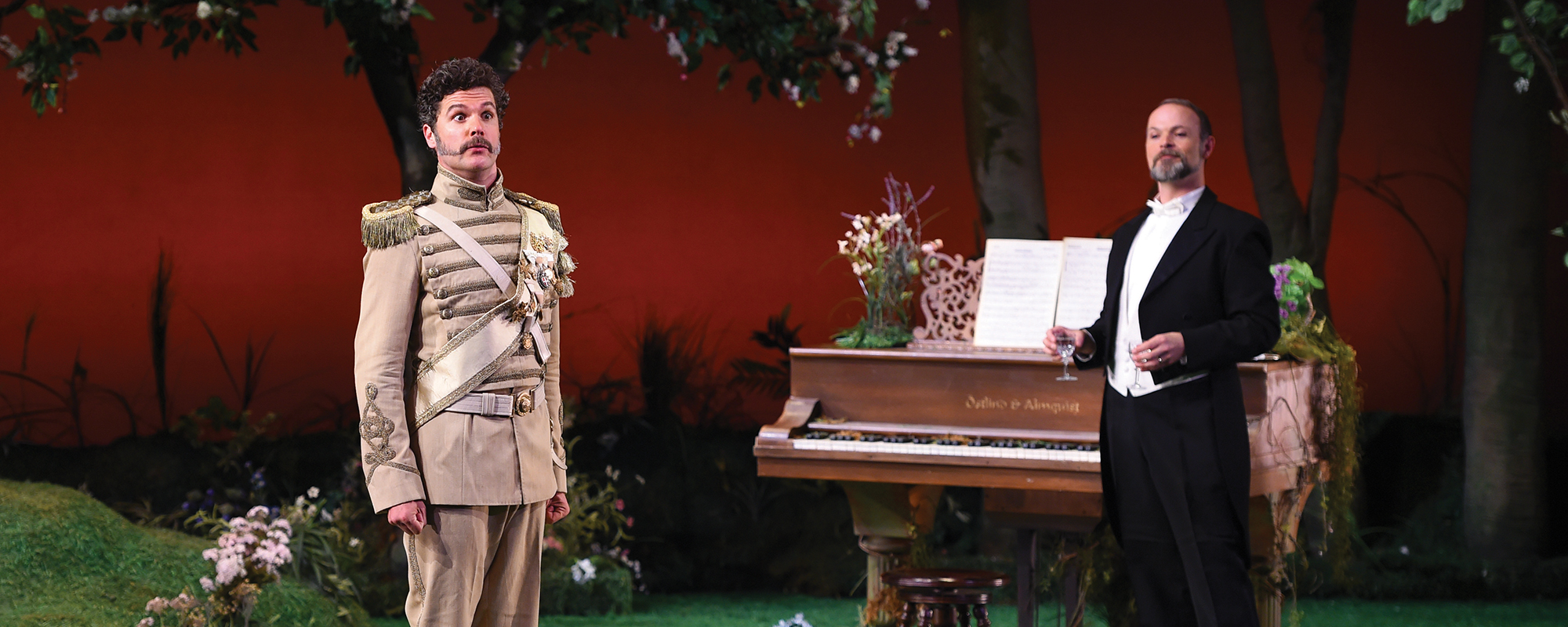 Frequenly Asked Questions
Des Moines Metro Opera welcomes first time opera goers. If you are joining us for the first time or have attended numerous opera productions with us or elsewhere we hope these Frequently Asked Questions will help you prepare for your experience.
Where are the performances?
DMMO's Summer Festival mainstage performances are held at the Blank Performing Arts Center in Indianola, IA. The theater address is 516 North D Street. We suggest arriving at least 30 minutes prior to the start of the performance to avoid traffic.
Where do I park?
Free parking is available in lots both south and north of the Blank Performing Arts Center and is accessible from North D Street, North E Street and Detroit Street.
When should I arrive?
We suggest arriving about 30 minutes before the start of the opera, which will give you that little extra time to park, visit our boutique, take a stroll on the grounds and enjoy reading some of the features in our handsome season program book - and, as performances begin promptly, it will help you avoid missing the start of the opera in case any unforeseen circumstances delay you.
Is there an opera shuttle?
Yes! DMMO offers an $8 roundtrip opera shuttle service from the Des Moines Art Center for select performances. For our 2019 Summer Festival, the shuttle will be available for La Boheme on June 30, Candide on July 10, and Wozzeck on July 14. Reservations are required.
NEW IN 2019
We're pleased to offer round-trip shuttle service from Ames, Iowa. This special shuttle costs $15/person and will be available for the first three Sundays of the season. Please stay tuned for more detailed information to be announced in the fall.
LA BOHÈME: June 30, 2019 (matinee)
CANDIDE: July 7, 2019 (matinee)
WOZZECK: July 14, 2019 (matinee)
What if I'm late?
Patrons arriving after the performance starts will be seated at the discretion of the house manager. They will do their best to seat latecomers at an appropriate point in the opera. We do this to ensure that our audiences can enjoy the performances with minimum distraction during the opera.
What should I wear?
Above all else, we want our patrons to be comfortable at our performances. While there is no dress code for our events, guests often treat the evening as a special night out and dress for the occasion. Formal dress is certainly not required; you will see everything from jeans to tuxes!
Is the theater accessible?
Designated wheelchair accessible seating is available. Entrance to the theatrer from the south parking lot allows easiest access to the elevator. Please contact Patron Services Manager, Dennis Hendrickson, at (515) 961-6221 for more information.
Where should we eat before the show?
Preshow dining is available in the comfort of the theatre lobby before most performances. Evening meals are catered by the Des Moines Embassy Club and Sunday brunches by Gateway Market. Reservations required.
Where should we stay while we're in town?
With its proximity to the metro area, patrons attending the Summer Festival Season have the option to book their stay in Des Moines or nearby the theater in Indianola.
What is Iowa weather like in the summer?
Summer temperatures range from the mid 60s to mid 90s or more, sometimes with high humidty. We encourage patrons to dress in layers for the theater to account for temperature variations.