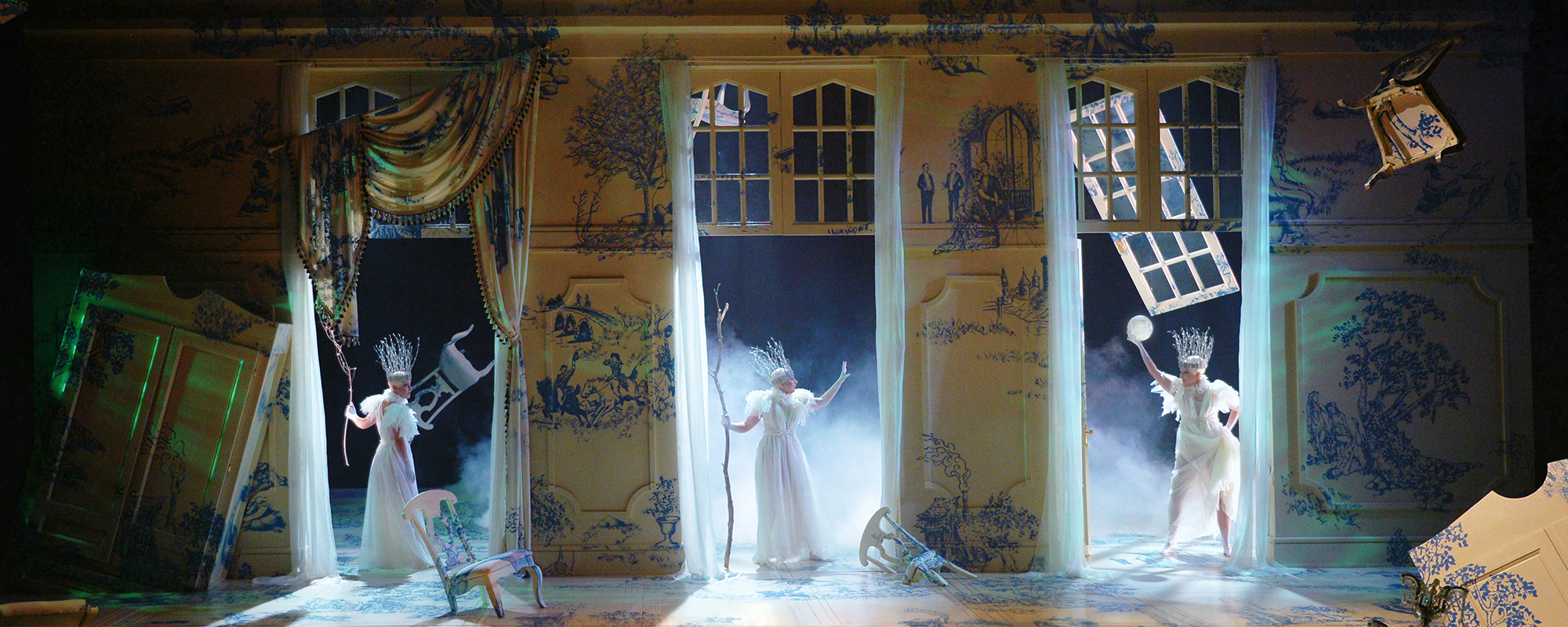 "World-class opera grows tall and proud in the Corn Belt" -Chicago Tribune, 2017
Experience world-class opera in one of the most unique theaters in the nation. Every seat in our 467-seat theater is closer to the center of the stage than the first row at the Metropolitan Opera, giving the audience a truly immersive theatrical experience. If you have never attended a DMMO production before, we hope you'll make this the year you discover us for the first time. Our exhilarating 2021 Season features a show for everyone, from the first-time opera goer to the seasoned connoissuer.

Ticket on-sale dates
February 1: The renewal period for all 2020 ticket buyers will begin on February 1, 2021. Keep an eye on your mailbox/inbox in late January for additional information regarding your season renewal!
March 1: New subscriptions and single tickets will go on sale beginning March 1, 2021.
When can I purchase tickets?
If you are renewing your 2020 subscriptions or single tickets: February 1
If you are purchasing new subscriptions or single tickets: March 1
What safety precautions are you taking?
We will be closely monitoring health and safety recommendations from government officials and public health experts to ensure a safe experience for our ticket buyers, artists and festival staff. It is reasonable to expect that face coverings will be required for all audience members while within the Blank Performing Arts Center.
Will DMMO's ticket policies change for 2021?
Yes, we are adapting our ticket policies to be more flexible and better fit the needs and concerns of our patrons. We will announce our full policies when tickets go on sale.
What if I buy tickets and you cancel the season?
If Des Moines Metro Opera is forced to cancel in-person performances for the 2021 Season, ticket buyers will be given the following options:
You may request the value of your ticket be reissued as a donation to help us pay the creators, musicians and technicians who were contracted to bring these incredible productions to life.

You may request the value of your ticket be credited toward tickets for the upcoming 2022 Season.

You may request a refund in the amount of your tickets.
When will you announce other 2021 events?
We will be announcing additional events for the 2021 Season in the coming months – stay tuned for more information!
An update from the General & Artistic Director
I am pleased to announce the operas that will comprise Des Moines Metro Opera's 2021 Summer Festival. The season will include the three new mainstage productions originally scheduled to be produced in 2020: Stephen Sondheim's razor-sharp musical thriller, Sweeney Todd, Tchaikovsky's brooding Russian ghost story, The Queen of Spades and Jean-Philippe Rameau's uproarious and rarely performed French comedy, Platée. Rounding out the 2021 Summer Festival will be a company premiere of Gregory Spears and Greg Pierce's Fellow Travelers, performed at the historic Hoyt Sherman Place theater in Des Moines, as part of the organization's 2nd Stages Series.

Last season, many of our ticket holders expressed their hope that we could present these titles for this next season and we're happy to be able to do so. The repertory is dynamic, vibrant and varied. And even the designs are as contrasting from one another as the titles. I cannot wait for you to see them.

Despite having to cancel our in-person 2020 Summer Festival, we made a commitment last season to honor the contracts of all our 200+ festival staff (singers, designers, directors, coaches, conductors, dancers, production staff and orchestra musicians). Now, many of those artists have been engaged to return in 2021, as their schedules allowed. Many company debuts and a handful of audience favorites will make our return to the theatre that much more special.

Of course, the health and safety of our artists, staff and audience members will be our primary concern as we make plans for 2021. We will announce detailed health and safety measures and precautions and implement the most up-to-date recommendations as the festival draws nearer. We've altered our performance calendar ever-so-slightly so that all performances occur after July 1, allowing as much time as possible to assess the public health landscape. If conditions do not allow us to ensure a safe experience for all by next summer, we will be ready to make adjustments to the programming and will communicate those changes with our patrons at that time.
Additionally, we hope to populate our festival calendar with familiar events and exciting new programs that we will announced at a later date as the contours of the global pandemic become clearer. For now, we will proceed with a healthy dose of optimism and a hope that we will be able to welcome audiences in person in 2021.

Like you, we can't wait to gather safely to experience opera together and in person. We know that day will come. Here in the middle of autumn, summer evenings of music and theatre are far off on the horizon. Today, no one can know for certain what the future will hold. For as long as there remains the possibility that conditions will allow us to perform for you in person, that will be our aim. We're looking forward to seeing you again!


-Michael