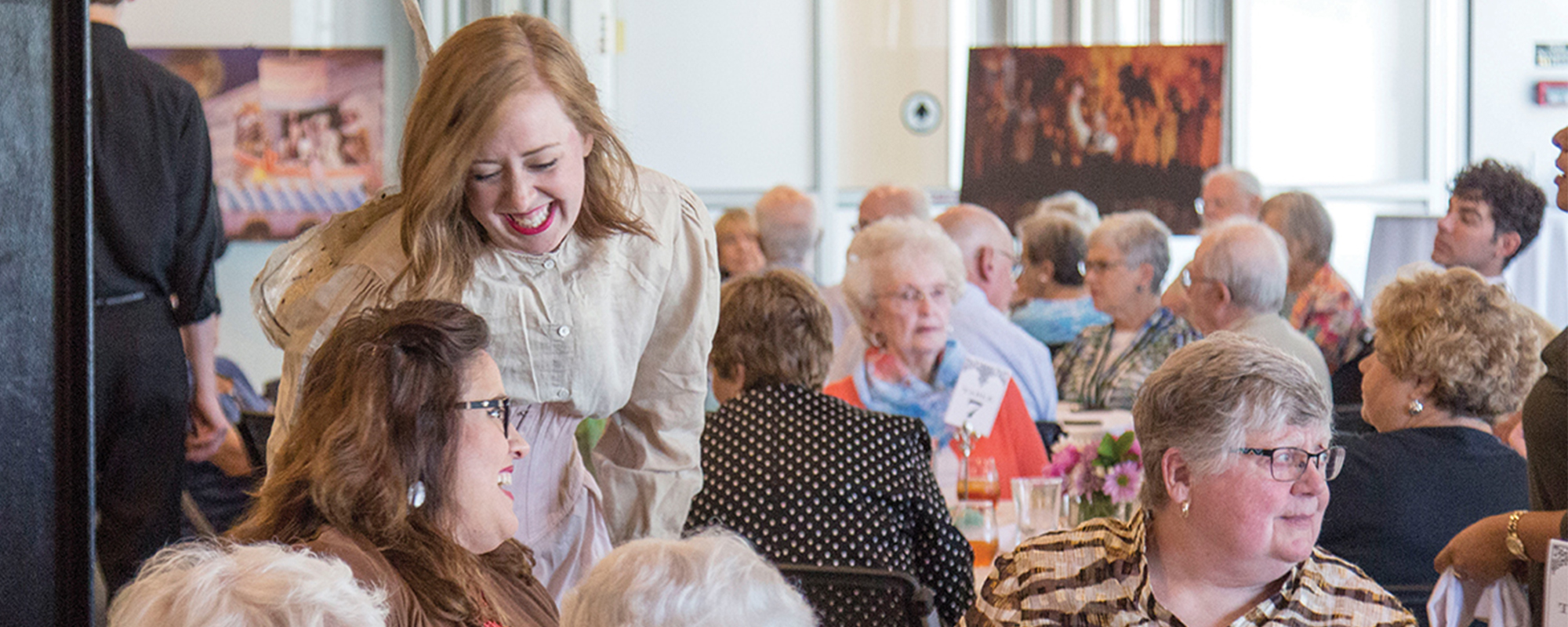 Des Moines Metro Opera is unique in many ways among local arts entities and regional opera companies. The company is particularly proud of its guild chapters that encompass a nearly 150-mile radius from our home offices. DMMO would not be able to generate the reach and scope of its activities without the tireless work from its four guild chapters in Ames, Des Moines, Indianola and Newton. Together, they make up a corps of volunteers that assist the DMMO office in many ways.
GUILD COUNCIL PRESIDENT
Julia Hagen
2020 VOLUNTEER OF THE YEAR
Nancy Main
Ames Chapter
PRESIDENT
Marilu Raman
SECRETARY
Barbara Brown
TREASURER
Sue Ravenscroft
PROGRAMS
Jaime Reyes
Carol Weber
PUBLICITY
Connie Ringlee
MEMBERSHIP
Jane Farrell-Beck
REFRESHMENTS
Hanna Gradwohl
Martha Miles
Des Moines Chapter
MEMBERSHIP
Melinda and Dennis Hendrickson
Become a member of the Des Moines Chapter!
Fill out the 2020 Membership Form and return to Dennis Hendrickson at 515-961-6221 or dhendrickson@dmmo.org
Indianola Chapter
PRESIDENT
Hannah Moeller
VICE-PRESIDENT
Melody Clutter
SECRETARY
Becky Hastie
TREASURER
Arlen Schrum
MEMBERSHIP
Chari Kruse
HISTORIAN
Dru McLuen
PAST PRESIDENTS
Betsy Freese
Julia Hagen
Karen Langstraat
PICNIC & PUCCINI CHAIR
Elizabeth Winjum
Patti Abild
Betty Augspurger
Nancy Baethke
Katherine Bendon
Karey Bishop
Martha and Gordon Bivens
Ardie and Jim Carson
Christine Clogg
Melody and Jeffrey Clutter
Denise Core
John Crouch
Charlie Dissell
Ardene and Bob Downing
Amy Duncan and Mark Davitt
Michael Egel
Kathie and Al Farris
Bob and Betsy Freese
Joyce Godwin
Marylin Gorham
Janella Guilford
Julia Hagen
Becky Hastie
Louise Hebron
Jan Hereid
Kiersten and Nick Johnson
Annette and Richard Kerr
Roberta Kerr
Mary Ellen and Jim Kimball
Steve and Judy Kirby
Bob and Susie Kling
Tim Klinkner
Chari and Matt Kruse
Karen and Phil Langstraat
Dr. Robert L. Larsen
William Larson
Nancy Lickiss
Diana Ludovici
Dru McLuen
Peg and Jim Mikulanec
David Moeller and Rita Reidy
Hannah and Carsten Moeller
Jean Newman
Dennis Nicholson
Frank Nowasell
Michael Patterson
Marcia Peeler
Mary Donaghy Richards
Jill Rossiter and Dennis Lamport
Leila and Mark Schlenker
Arlen and Jean Schrum
Paula Schultz
René and Mike Staudacher
Vickie and Darrell Till
William Tomlinson
Judy and Phil Watson
Bob Watts
Paul and Laura Whipple
Gaye Wiekierak
Tim Wilson and Heidi Levine
Elizabeth and Craig Winjum
Janet Wood
Become a member of the Indianola Chapter!
Fill out the 2021 Membership Form and return to Chari Kruse at 515-961-6221 or ckruse@dmmo.org
Newton Chapter
PRESIDENT
Joan Tyler
VICE-PRESIDENT
Virginia Bennett
SECRETARY
Jane Ann Cotton
TREASURER
Kay Fisher
PUBLICITY CHAIR
Judy Manusos
BOARD MEMBER AT-LARGE
Eric Lindberg