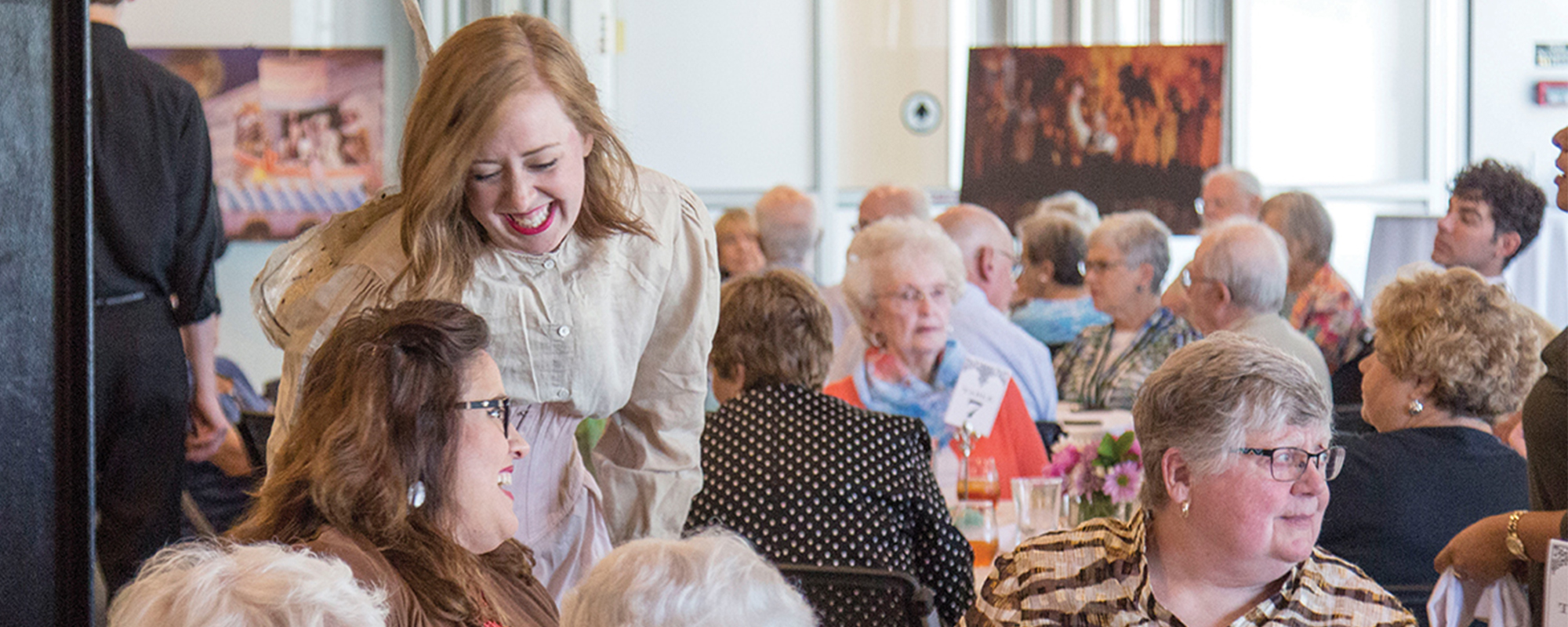 Des Moines Metro Opera is unique in many ways among local arts entities and regional opera companies. The company is particularly proud of its guild chapters that encompass a nearly 150-mile radius from our home offices. DMMO would not be able to generate the reach and scope of its activities without the tireless work from its four guild chapters in Ames, Des Moines, Indianola and Newton. Together, they make up a corps of volunteers that assist the DMMO office in many ways.

This year the chapters will join together for its popular annual event, the Threads and Trills Fashion Show and Luncheon, on June 10, 2020, at the Des Moines Embassy Club West. Separately, each chapter organizes at least one event every month, with activities such as previews, tours, and even full-scale concerts.
GUILD COUNCIL PRESIDENT
Julia Hagen
2019 VOLUNTEER OF THE YEAR
Marilu Raman
Ames Chapter
PRESIDENT
Marilu Raman
SECRETARY
Barbara Brown
TREASURER
Sue Ravenscroft
PROGRAMS
Jaime Reyes
Carol Weber
PUBLICITY
Connie Ringlee
MEMBERSHIP
Jane Farrell-Beck
REFRESHMENTS
Hanna Gradwohl
Martha Miles
Des Moines Chapter
MEMBERSHIP
Melinda and Dennis Hendrickson
Become a member of the Des Moines Chapter!
Fill out the 2020 Membership Form and return to Dennis Hendrickson at 515-961-6221 or dhendrickson@dmmo.org
Indianola Chapter
PRESIDENT
Hannah Moeller
VICE-PRESIDENT
Melody Clutter
SECRETARY
Adam Bradley
TREASURER
Arlen Schrum
MEMBERSHIP
Chari Kruse
HISTORIAN
Dru McLuen
PAST PRESIDENTS
Betsy Freese
Julia Hagen
PICNIC & PUCCINI CHAIR
Elizabeth Winjum
Become a member of the Indianola Chapter!
Fill out the 2020 Membership Form and return to Chari Kruse at 515-961-6221 or ckruse@dmmo.org
Newton Chapter
PRESIDENT
Joan Tyler
VICE-PRESIDENT
Virginia Bennett
SECRETARY
Jane Ann Cotton
TREASURER
Kay Fisher
PUBLICITY CHAIR
Judy Manusos
BOARD MEMBER AT-LARGE
Eric Lindberg