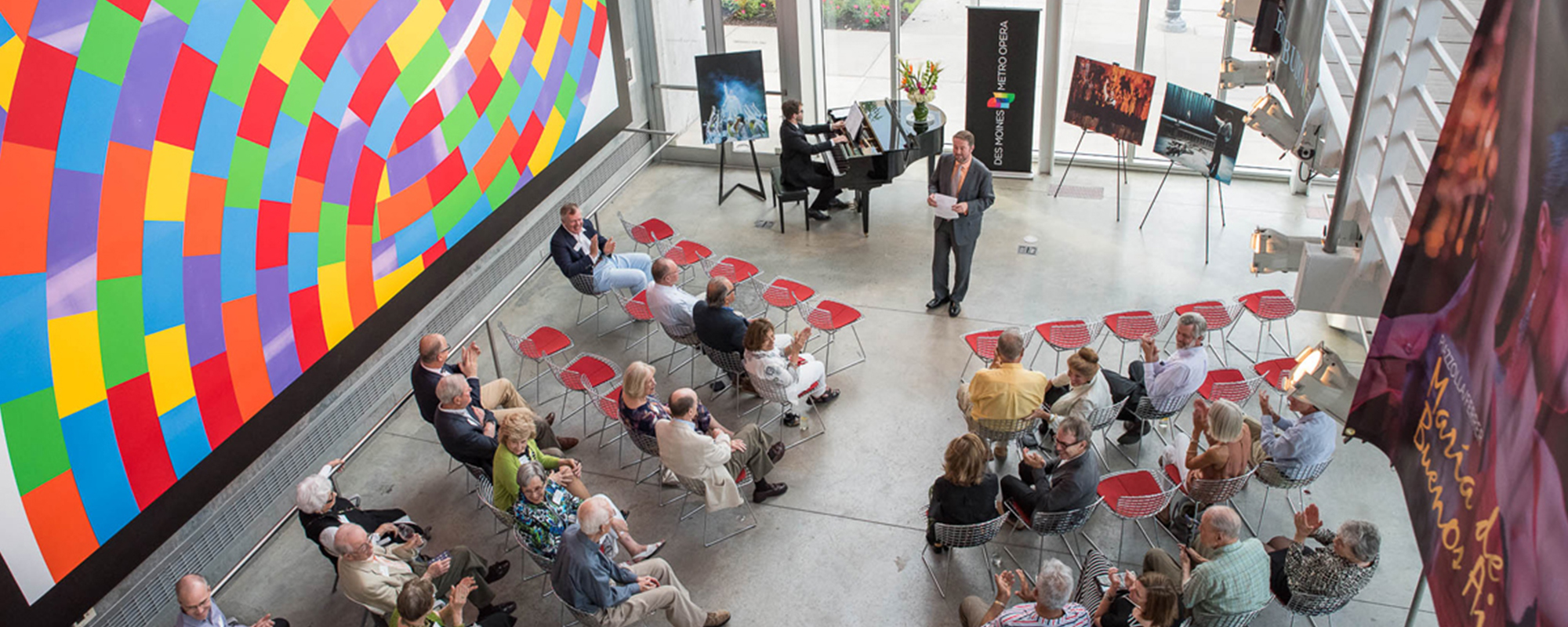 Michael Egel, General and Artistic Director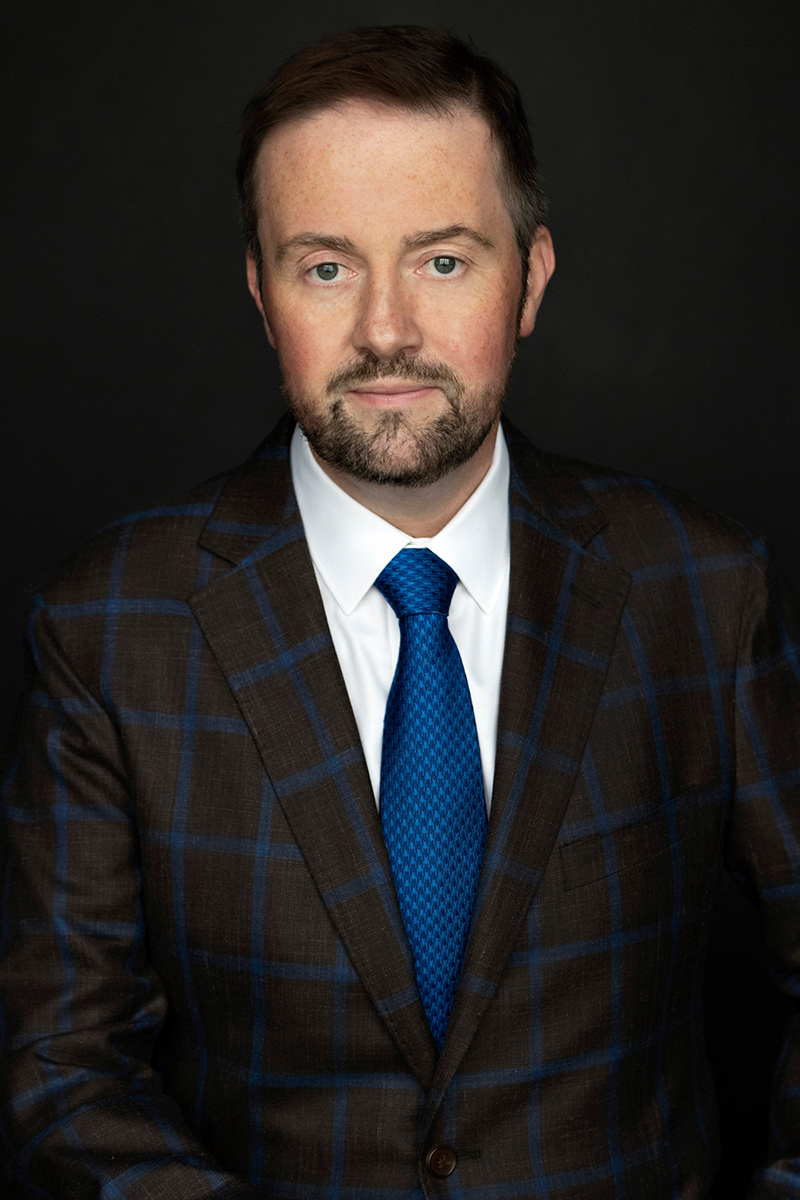 Michael Egel of Indianola, Iowa, has been the Linda Koehn General and Artistic Director of Des Moines Metro Opera since 2013 and Artistic Director since September of 2010. Prior to that appointment, he served the company as the Artistic Administrator/Director of Education from 1999-2010. Michael joined the Summer Festival staff in 1994 and marks 31 consecutive seasons with the organization in 2023. During his tenure as General Director, he has spearheaded two major fundraising campaigns: a $19 million endowment campaign for the organization's 50th Anniversary and $4 million campaign to renovate and restore the Company's Carnegie Library headquarters, converting it into an expanded community engagement space called the Lauridsen Opera Center which opened in 2019.
Egel's responsibilities include both artistic direction and overall management—specifically, the areas of strategic planning, opera production, fiscal stewardship and community, donor and board relations. He works closely with the year-round staff in the day-to-day operation of the organization and with the festival production and artistic teams on the creation of the Summer Festival. During his tenure, the company launched the 2nd Stages Series, a new performance initiative designed to engage new audiences, promote strategic collaborations, increase revenue and create a platform for innovation by focusing on new works and contemporary subject matter. Partnerships within this initiative have included One Iowa, Transformations Iowa, Camp Dodge, Science Center of Iowa, Capital City Pride, Greater Des Moines Botancial Garden, Des Moines Art Center and the Iowa Culinary Institute. As General Director, the Company's annual operating budget has grown by over three million dollars.
Egel is responsible for repertory selection, casting of singers, selecting conductors and stage directors for mainstage productions and oversight of the company's collaborations with creative and design teams for new productions. During the summer festival, he oversees the activities of more than 200 company members. A focus on new productions and expanding the repertory have been hallmarks of his tenure. In 2012 he launched an initiative to present opera titles new to the company and that has since introduced critically acclaimed new productions of Eugene Onegin, Elektra, Dead Man Walking, Le Comte Ory, Jenůfa, Orphèe et Eurydice, A Little Night Music, Billy Budd, Flight, The Queen of Spades, Platée, Wozzeck, Porgy and Bess, Bluebeard's Castle and The Love for Three Oranges to Summer Festival audiences. Under his leadership, Des Moines Metro Opera presented its second world premiere, Kristin Kuster and Mark Campbell's A Thousand Acres, during the 50th Anniversary Season, and will present its third, Damien Geter and Lila Palmer's American Apollo, as part of the 2024 Festival Season.
Egel has also been responsible for renewing the Company's relationships with broadcast partners such as Iowa Public Radio and Iowa PBS. With the latter, eight of nine broadcasts since 2013 have received Regional Emmy Award nominations, with 2016's Manon, 2017's Billy Budd, and 2019's Bon Appétit! recognized with Upper Midwest Emmy wins for Arts and Entertainment Programming.
His education credentials include a Bachelor of Music in Performance and Education from Simpson College and a Master of Music from the University of Memphis. In March 2011 he was named to the Des Moines Business Record "Forty under 40" which serves to identify young leaders making an impact in the Greater Des Moines Area. He is a member of the Greater Des Moines Committee, which is comprised of Central Iowa's highest ranking business leaders and currently serves on the executive committees of the boards of Opera America and Bravo Greater Des Moines. Under his leadership, Des Moines Metro Opera received the 2015 Bravo Greater Des Moines Encore Award for Organizational Excellence. He has served frequently as an adjudicator for the Metropolitan Opera's National Council Auditions.
David Neely, Music Director and Principal Conductor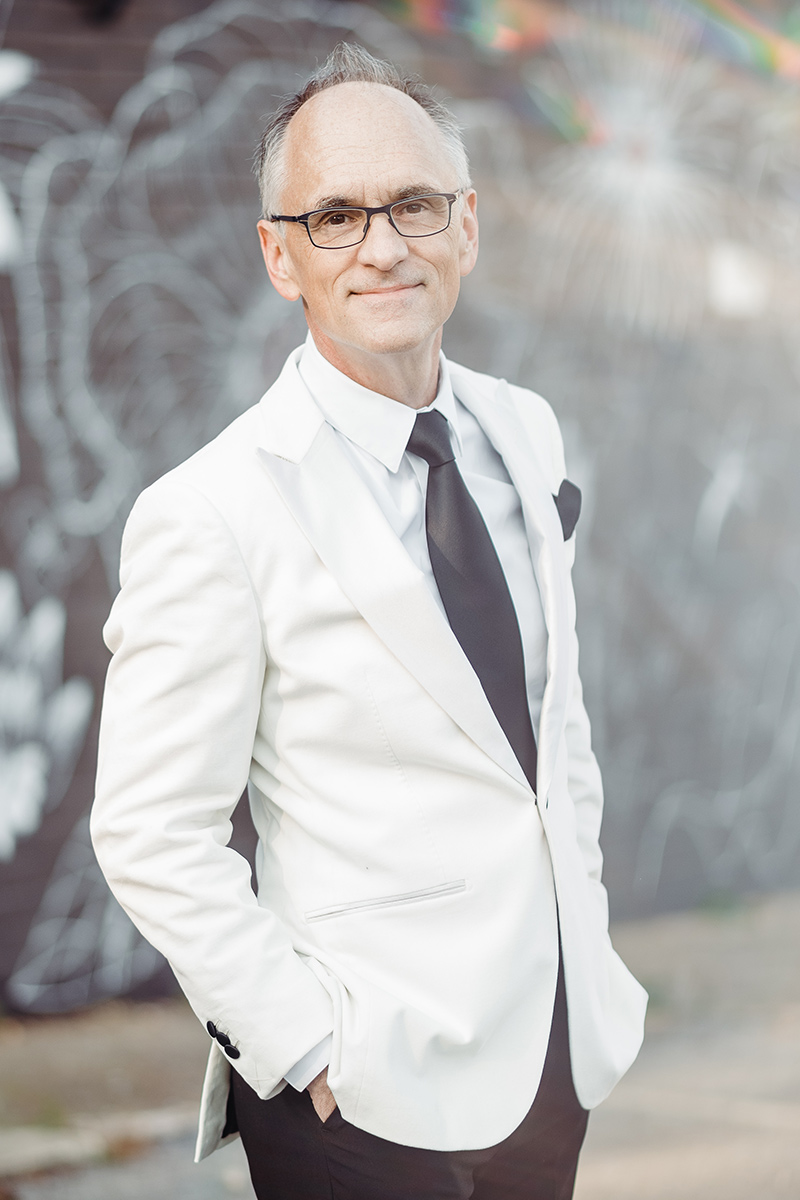 Born in Dayton, Ohio, conductor David Neely has been described by Opera News as "a ninja warrior with a baton" (Opera News). He maintains an active career in symphonic, opera, ballet, and educational settings.
As the Marshall and Judy Flapan Music Director and Principal Conductor of Des Moines Metro Opera, a position he has held since 2012, Neely has elevated the company's musical profile and developed one of the nation's finest opera orchestras. He has led critically-acclaimed performances of a broad range of new and traditional repertoire that includes the recent world premiere of Kristin Kuster and Mark Campbell's A Thousand Acres, the in-person premiere of Damien Geter and Lila Palmer's American Apollo, regional Emmy award-winning productions of Manon and Billy Budd for Iowa PBS, and approximately 30 other works including Wozzeck, The Queen of Spades, Eugene Onegin, Rusalka, Jenůfa, Falstaff, Elektra, Peter Grimes, Dead Man Walking, Flight, Macbeth, Don Giovanni, Candide, The Girl of the Golden West, Turandot, and most recently Bluebeard's Castle and The Love for Three Oranges. He has led productions with Atlanta Opera, Sarasota Opera, Intermountain Opera, and numerous European opera houses including Bonn and Dortmund. His performances have been praised in Opera News, Opera Today, Opernwelt, the Chicago Tribune, and the Wall Street Journal.
Neely has led concerts with the Memphis Symphony Orchestra, Portland Symphony Orchestra, Dortmund Philharmonic, Bochumer Philharmoniker, Eutin Festival Orchestra, Bregenz Symphony Orchestra, and is a regular conductor with the D.C. area's Apollo Orchestra. He has led ballets with Dortmund Opera and the Indiana University Ballet Theater.
Neely is also Director of Orchestras at the University of Maryland School of Music, where recent highlights include Mahler's Symphony No. 2, Emilie Mayer's Symphony in F minor, Valerie Coleman's Umoja, Carlos Simon's The Block, Prokofiev's Symphony No. 5, Bartók's Concerto for Orchestra, and world premieres of Erich Stem's Kayak and Maria Newman's Our Rights and Nothing Less. He is a regular guest conductor and guest conducting teacher at the Indiana University Jacobs School of Music, where he previously served on faculty and most recently conducted Osvaldo Golijov's operatic masterwork, Ainadamar.

Concerto soloists with whom he has collaborated include Roberto Diaz, Ricardo Morales, David Chan, Rainer Honeck, Nicholas Daniel, Joshua Roman, Eric Kutz, Bella Hristova, Benjamin Beilman, Delfeayo Marsalis, Ben Lulich, and Phillipe Cuper. He has appeared as a collaborative pianist with numerous vocalists, including a recent recital with Joyce Castle and Schubert's Winterreise with David Adam Moore. He has served as a guest teacher with Washington National Opera's Cafritz Young Artist program, and was the conductor for Washington National Opera's American Opera Initiative in 2021. He recently appeared with the American Lyric Theater in New York and with the National Orchestra Institute + Festival.