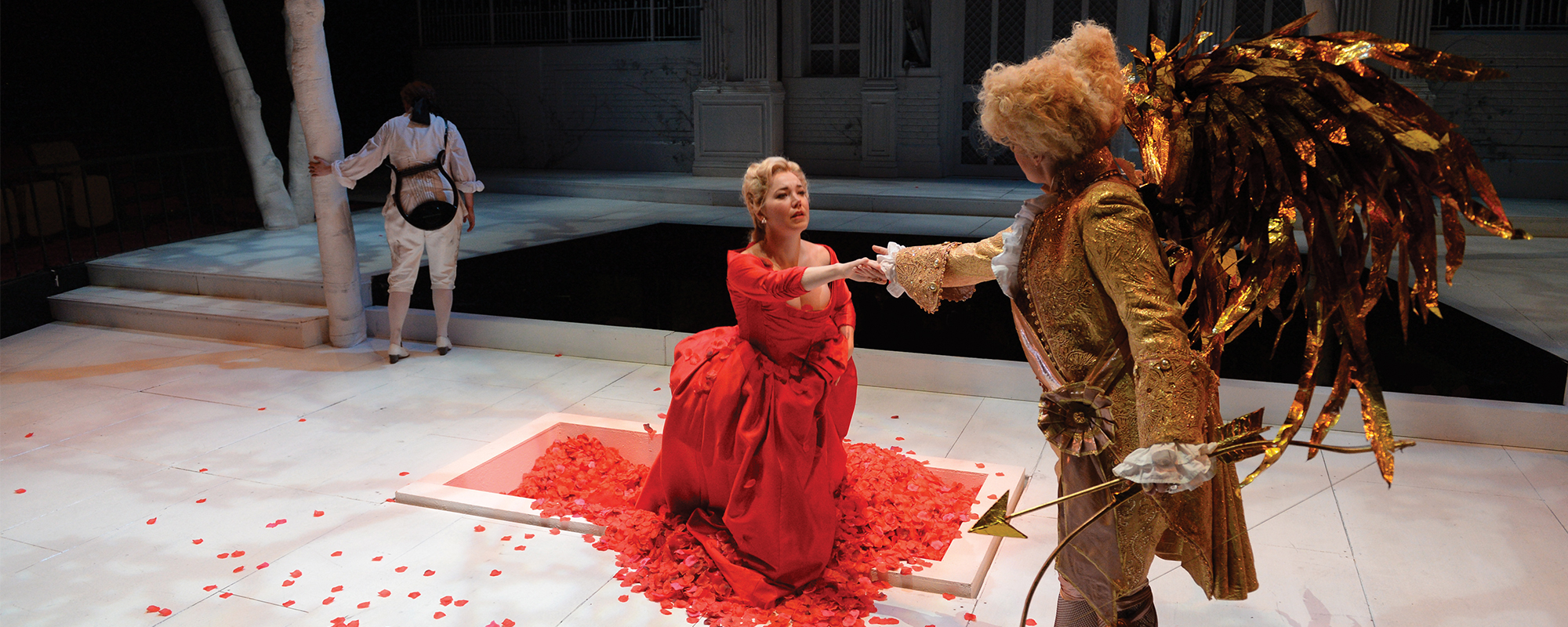 Box Office Hours
Monday-Friday, 9:00am-4:30pm CDT
Box Office Contact Info
CONTACT: Kaylah Rude, Patron Services Manager
PHONE: 515-209-3257
EMAIL: krude@dmmo.org
Ticket Exchanges
Season subscribers may exchange their tickets (subject to availability) if received by the Box Office five days prior to the performance date. Single tickets can be exchanged for a $10 exchange fee.
Lost Tickets
Don't worry! Lost tickets can be reprinted and held for you at the Box Office.
No Refunds or Cancellations
All tickets (including performances, shuttle tickets, dinner reservations, etc.) are non-refundable. All sales are final.

UPDATE REGARDING THE COVID-19 VIRUS
Currently, all summer festival performances will proceed as scheduled. However, if Des Moines Metro Opera has to cancel performances due to the COVID-19 pandemic, ticket buyers will be given the following options:
You may exchange your tickets to a later performance during the 2022 Festival Season
You may request the value of your ticket be reissued as a donation to help us pay the creators, musicians and technicians who were contracted to bring these incredible productions to life.
You may request a refund in the amount of your tickets.
Can't attend the performance?
Like all performing arts organizations, we depend on the financial support contributed by our friends for much of our income. Should you be unable to attend a performance for which you are holding tickets, we recommend returning them for a receipt acknowledging your donation of their paid value. Doing this as soon as possible will increase our chances of reselling them. Please notify us by phone of your intention to donate the tickets at least 24 hours before the performance. A donation receipt will be mailed to you.
Late Seating
Patrons arriving after the performance begins will be seated at the discretion of the house manager. They will do their best to seat latecomers at an appropriate point in the opera. We do this to ensure that our audiences can enjoy the performances with minimum distraction during the opera. We also want to be sure latecomers are able to safely get to seats in a dark theatre without having to navigate stairs and narrow aisles.
Dress Code
Above all else, we want our patrons to be comfortable at our performances. While there is no dress code for our events, guests often treat the evening as a special night out and dress for the occasion. Formal dress is certainly not required, you will see everything from jeans to suits!
Accessibility
Designated wheelchair-accessible seating is available. The entrance to the theatre from the south parking lot allows the easiest access to the elevator. Please contact Guest Services Manager Kaylah Rude at (515) 961-6221 for more information.
Privacy Policy

We respect and are committed to protecting your privacy. We may collect personally identifiable information when you visit. We may record information on our server logs from your browser including your IP address, cookie information, and the page(s) you visited. We will not sell your personally identifiable information to anyone, but it can or may be shared with other opera companies.
Security Policy

Your payment and personal information is always safe. Our Secure Sockets Layer (SSL) software is the industry standard and among the best software available today for secure commerce transactions. It encrypts all of your personal information, including credit card number, name, and address, so that it cannot be read over the internet.