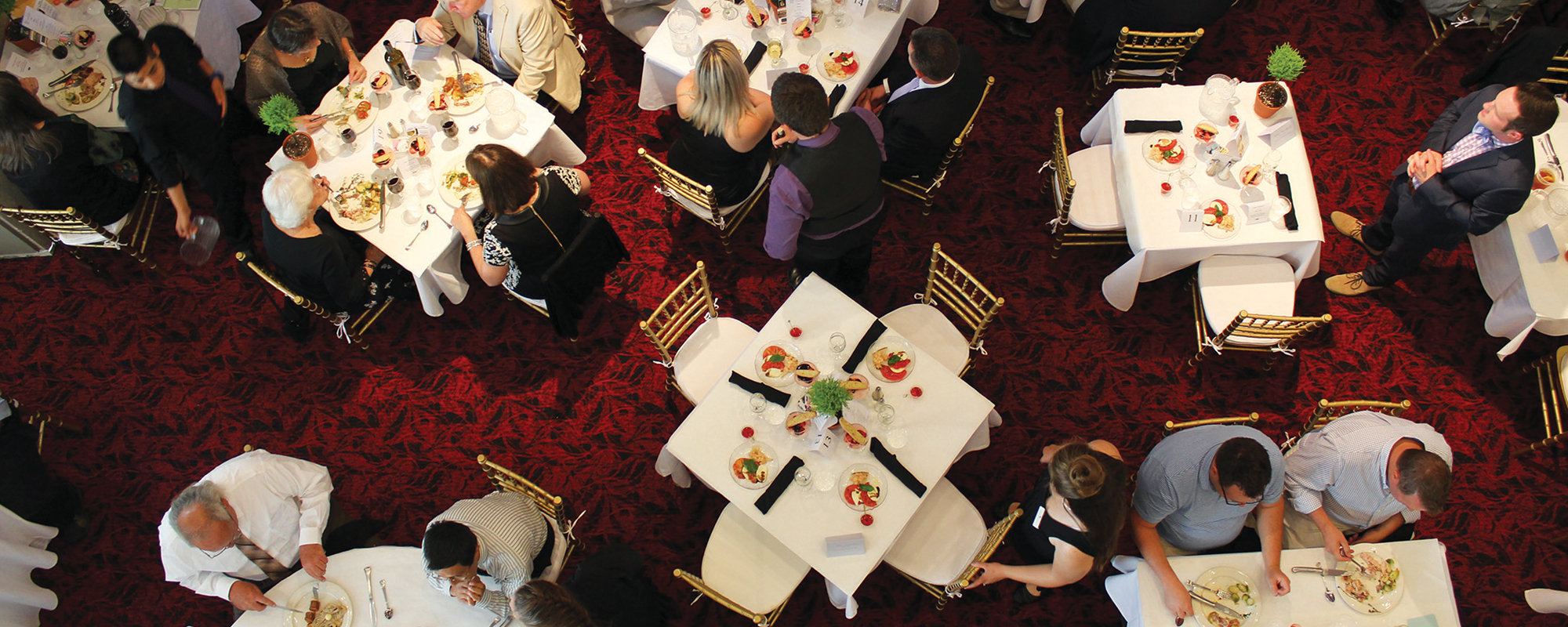 DINING WITH DES MOINES METRO OPERA
Enhance your Des Moines Metro Opera experience by enjoying our own gourmet restaurant conveniently located in the secluded air conditioned comfort of the lobby of the Blank Performing Arts Center. Michael LaValle, a well-known Des Moines chef, restaurateur and General Manager at the Des Moines Embassy Club, brings his very special magic to the menus themed for evening performances of each opera. Gateway Catering of the award-winning Gateway Market in Des Moines offers a delicious brunch menu prior to Sunday matinees.
Dinners are $45/person and begin serving at 5:00pm for evening performances. Brunches are $25/person and begin serving at 11:45am for matinee performances.
2020 Festival Season Dinner Menus
Sweeney Todd

Dinners served for the June 26, July 9, July 14 and July 16 performances.
Aperítíf: High Tea Spritzer

Amuse: Guinness Stout Onion Meat Pies; Arugula Salad with Kippers; English Sage Derby with Walnut Croustades

Buffet: Carved London Broil & English Bangers with Horseradish Sauce and Mustard; "Fish & Chips" (Potato Crusted Cod); Rumbly Thump Potatoes; Summer Squash Medley; Poached Asparagus with Lemon Sauce
Dessert: Sticky Toffee Pudding with Vanilla Ice Cream and Strawberries
Platée
Dinners served for the July 3 and July 17 performances.
Aperítíf: Rose Aperitif

Amuse: French Brie & Jam; Country Pate on Brioche; Deviled Quail Egg with Salmon Caviar

Buffet: Chef Carved Petite Beef Coulotte Steak with Morel Mushroom Sauce; Hot Smoked Salmon with Creme Fraiche and Dill; Red Garden Salad; Potatoes Dauphinoise; Haricots Verts & Champignons; Baguette Bread
Dessert: Mini Fruit Tart with Pink Berries and Chocolate Truffle; Mint Iced Tea & Coffee
The Queen of Spades
Dinners served for the July 7, July 10 and July 18 performances.
Aperítíf: Infused Vodka Apéritif

Amuse: Fresh Golden Beet Salad; Whitefish Caviar Blini; Roast Eggplant and Tomato Salad

Buffet: Carved Berkwood Farms Russian Pork Shashlik Roast; Chicken Kiev; Fingerling Potatoes with Onions and Carrots; Braised Cabbage with Apples; Grilled Vegetable Display; Sourdough Black Rye Bread
Dessert: Strawberries Romanoff with Tea Cookie; Mint Iced Tea & Coffee
Evening dinner buffets can be altered to accommodate dietary restrictions. Please contact Patron Services Manager Dennis Hendrickson (dhendrickson@dmmo.org or 515-961-6221) if you have any questions or would like to make a request. Please note: special requests must be made at least one full week in advance of the dinner reservation.