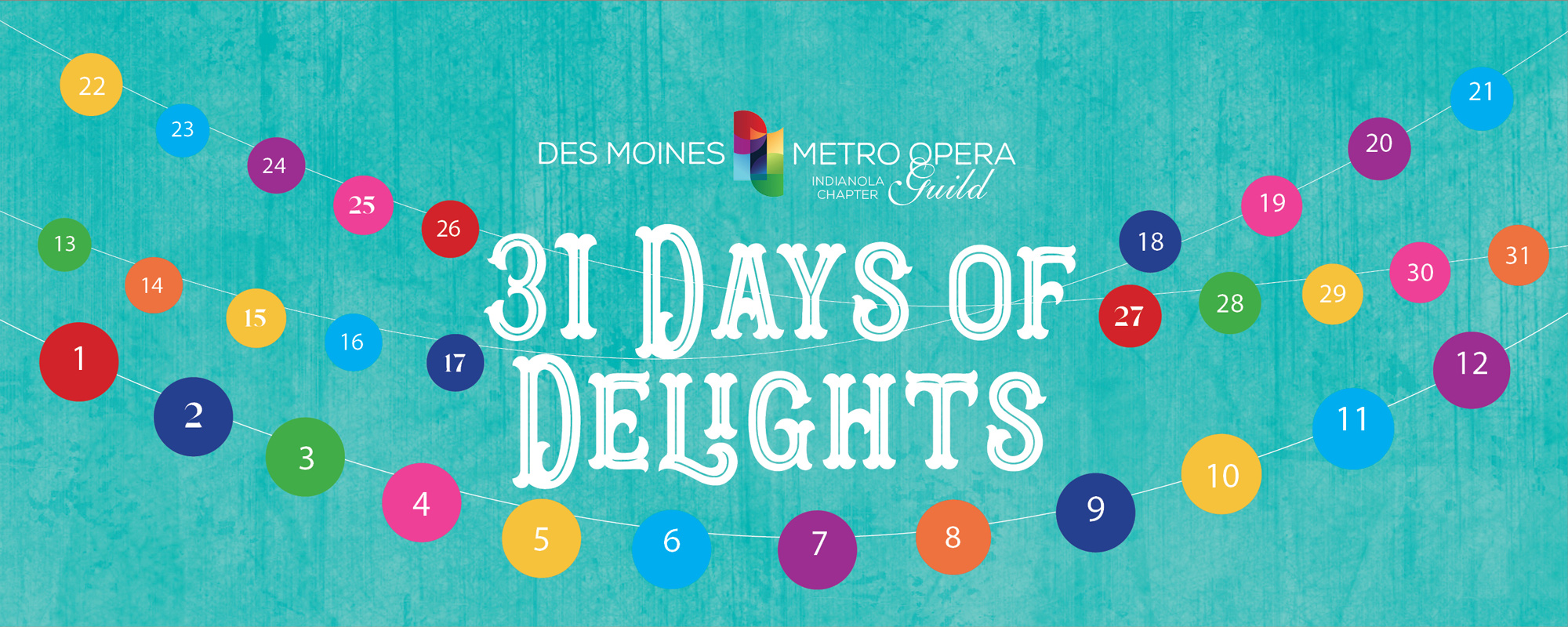 The Indianola Guild Chapter's Holiday Fundraiser
31 days. 31 handmade or homegrown prizes. For $100 you may select any date in December and receive a delightful package of handmade or homegrown items worth at least $35 (though it may exceed $100 in value). Expect a few surprises, but odd numbered days will likely feature an "artsy" prize (artwork, pottery, jewelry, a custom-built coffee table, etc.); even numbered days will likely feature a prize that will whet your appetite (delicious baked goods, home-cooked meals for the whole family, etc.).

Another way to support the arts in Indianola
Buy raffle tickets ($25 each or 5 for $100) for a chance to win one of the following exciting prizes:
Fleming's Prime Steakhouse basekt of wines and giftcards valued at $400

A Cake-of-the-Month package (12 delicious cakes) baked by DMMO's own Tim McMillin
2 prizes, each featuring a $100 Z's Eatery giftcard plus two bottles of wine

To Order
Contact Chari Kruse at the DMMO office (ckruse@dmmo.org or 515-961-6221) to select your date and/or purchase raffle tickets and to figure out your payment method (cash, check and credit/debit cards accepted). Sales start now and continue until all 31 dates are taken.
The 31 Days of Delights Calendar

Odd days=handmade (arts, quilts, pottery, jewelry, etc.)
Even days=homegrown (baked goods, dinners, etc.)

December 1: Available
December 2: Available
December 3: TAKEN!
December 4: TAKEN!
December 5: Available
December 6: Available
December 7: Available
December 8: TAKEN!
December 9: Available
December 10: TAKEN!
December 11: Available
December 12: Available
December 13: Available
December 14: Available
December 15: TAKEN!
December 16: Available
December 17: Available
December 18: Available
December 19: Available
December 20: Available
December 21: Available
December 22: Available
December 23: Available
December 24: Available
December 25: Available
December 26: Available
December 27: Available
December 28: Available
December 29: Available
December 30: Available
December 31: Available