---
DMMO's Anniversary Projects Director, Ellen Diehl, to Retire January 31
Friday, January 22, 2021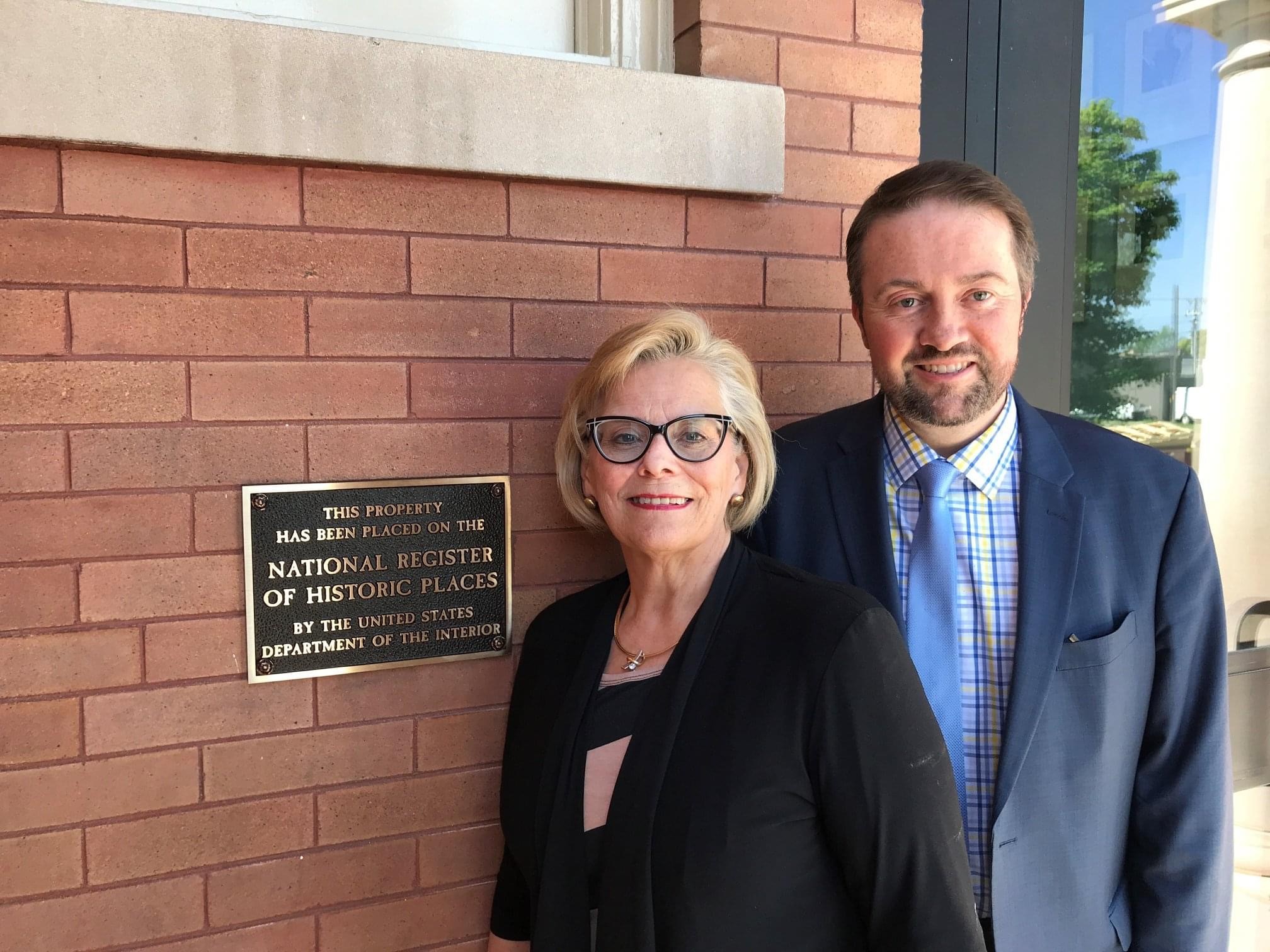 Pictured: Ellen Diehl and Michael Egel at the Lauridsen Opera Center

Indianola, IA —Des Moines Metro Opera's General and Artistic Director, Michael Egel, announced today the upcoming retirement of Anniversary Projects Director, Ellen Diehl, on January 31, 2021.

Diehl has been an invaluable member of Des Moines Metro Opera (DMMO) since joining the staff in 2014, serving as Director of Advancement and Operations from 2014 to 2019 and Anniversary Projects Director from 2019 to 2021. Under her leadership, the organization grew contributions to its annual fund by 55% and successfully completed a $3.5 million capital campaign for the renovation and expansion of DMMO's administrative headquarters – the Lauridsen Opera Center. Diehl has spent the last 18 months of her tenure at DMMO spearheading special projects associated with the company's upcoming 50th Anniversary. Details of that celebration are to be announced during the organization's 2021 Summer Festival.
"Over the last seven years, our DMMO family has come to know and appreciate the work, kindness and thoughtful professionalism of Ellen Diehl," said Michael Egel, General & Artistic Director. "Personally, I've come to rely on a friend and colleague, whose tremendous grace and genuine care for all people have been a constant source of inspiration. During the most recent 18 months, her work on our upcoming 50th anniversary campaign has been remarkable, and I look forward to sharing more news later in the year. In the meantime, we extend our gratitude and best wishes to her in this next chapter. All of those who will experience our performances in subsequent generations will do so in large part thanks to her tireless work for Des Moines Metro Opera."
Prior to coming to DMMO, Diehl served as the Director of Annual Giving and Events at the Mercy Foundation since 2006 where she developed and coordinated an annual fundraising campaign known as Spirit of Mercy for Mercy Foundation. Other previous non-profit leadership roles have been with organizations including Friendship Haven, a Fort Dodge Continuing Care Retirement Community, Main Street Fort Dodge, and March of Dimes. She was also the Executive Director of the Fort Dodge Area Chamber of Commerce from 1992 to 2002. At Friendship Haven, Diehl successfully led a $1.4 million capital campaign as part of a $27 million revitalization project. While the Executive Director of the Fort Dodge Area Chamber of Commerce, she helped coordinate a county wide public relations initiative to reverse a decision by the Federal Trade Commission to close a local plant, saving more than 400 jobs. Her arts experience includes a degree in Communicative Arts including theatre and speech from Westmar College. Diehl is also a graduate of the Institute for Organizational Management.
In retirement, Diehl is looking forward to traveling more, reading all the books that have accumulated on the shelf, and spending more time with her family, which includes her husband of 46 years, Jim; her three children, Evan (Ursula) Diehl of Iowa City, IA, Sarah (Brett) Hatten of Chicago, IL, Melinda (Juan Pablo) Sanchez of Chile; and her six grandchildren, Lily, Owen, Benjamin, Oliver, Theo and Thomas.

IMAGERY
Ellen's headshot and DMMO logos may be found in the following Dropbox: https://www.dropbox.com/sh/ovh0mfd3hxjghws/AACGXNMKxmd5ShsNTogXTLiEa?dl=0

ELLEN DIEHL Q&A
---