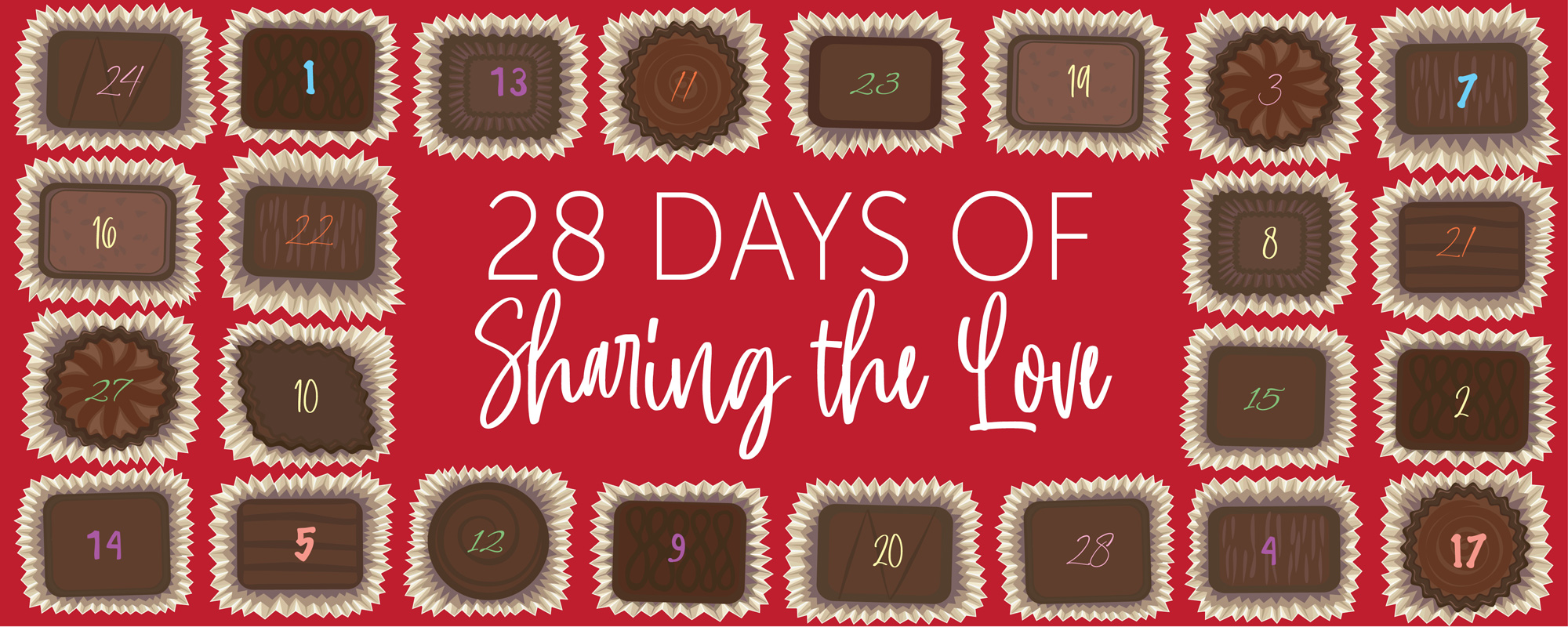 28 Days of Sharing the Love
A fundraiser to benefit the Des Moines Guild Chapter
Purchase a Day
For $100 you may select any date in February and receive a delightful package worth at least $35 (though it may exceed $100 in value). Expect a few surprises, but the theme for odd numbered days will be "All Things Bright and Beautiful," and will feature prizes like art, pottery, homemade crafts, furniture, a garden party, guest golf pass, product baskets, etc.; even numbered days will be themed "Eat, Drink, and Be Merry," with prizes featuring themed food baskets, baked goods, wine/cocktail tasting events, gift cards to local restaurants, etc.

Purchase Raffle Tickets
Buy raffle tickets ($25 each or 5 for $100) for a chance to win one of the four following exciting prizes:
Themed dinner for 8 with wine pairings
2 night stay at Die Heimat Country Inn B&B in the Amana Colonies
Picnic for 4 in Dr. Robert Larsen's backyard gazebo before a summer opera. Food/drink provided. Tickets sold separately
2 tickets to DMMO's 2022 production of Porgy and Bess
Make a "Leap of Faith" Donation
In lieu of purchasing a day or raffle tickets, you may make a "Leap of Faith" donation to the DMMO Guild. Any size of gift is welcome. We realize it is not a leap year, but it is all part of the fun and a great way to support the arts in Iowa! Make a "Leap of Faith" donation.
To Order
Contact Chari Kruse at the DMMO office (ckruse@dmmo.org or 515-961-6221) to select your date and/or purchase raffle tickets and to arrange payment (cash, check and credit/debit cards accepted). Sales begin now and continue until all 28 dates are taken!
The 28 Days of Sharing the Love Calendar

Odd days=All Things Bright and Beautiful
Even days=Eat, Drink and Be Merry
February 1: TAKEN!
February 2: TAKEN!
February 3: TAKEN!
February 4: TAKEN!
February 5: TAKEN!
February 6: TAKEN!
February 7: TAKEN!
February 8: TAKEN!
February 9: TAKEN!
February 10: TAKEN!
February 11: TAKEN!
February 12: TAKEN!
February 13: Available
February 14: TAKEN!
February 15: TAKEN!
February 16: TAKEN!
February 17: TAKEN!
February 18: TAKEN!
February 19: TAKEN!
February 20: TAKEN!
February 21: Available
February 22: TAKEN!
February 23: Available
February 24: Available
February 25: TAKEN!
February 26: TAKEN!
February 27: Available
February 28: TAKEN!
A selection of "Sharing the Love" prizes
Here is a sampling of the daily prizes that will be gifted as part of the Des Moines Chapter's 28 Days of Sharing the Love fundraiser. We will continue adding photos as the new prizes come in. Keep checking back!