---
DMMO presents Zachary James on Broadway on March 19
Wednesday, February 17, 2021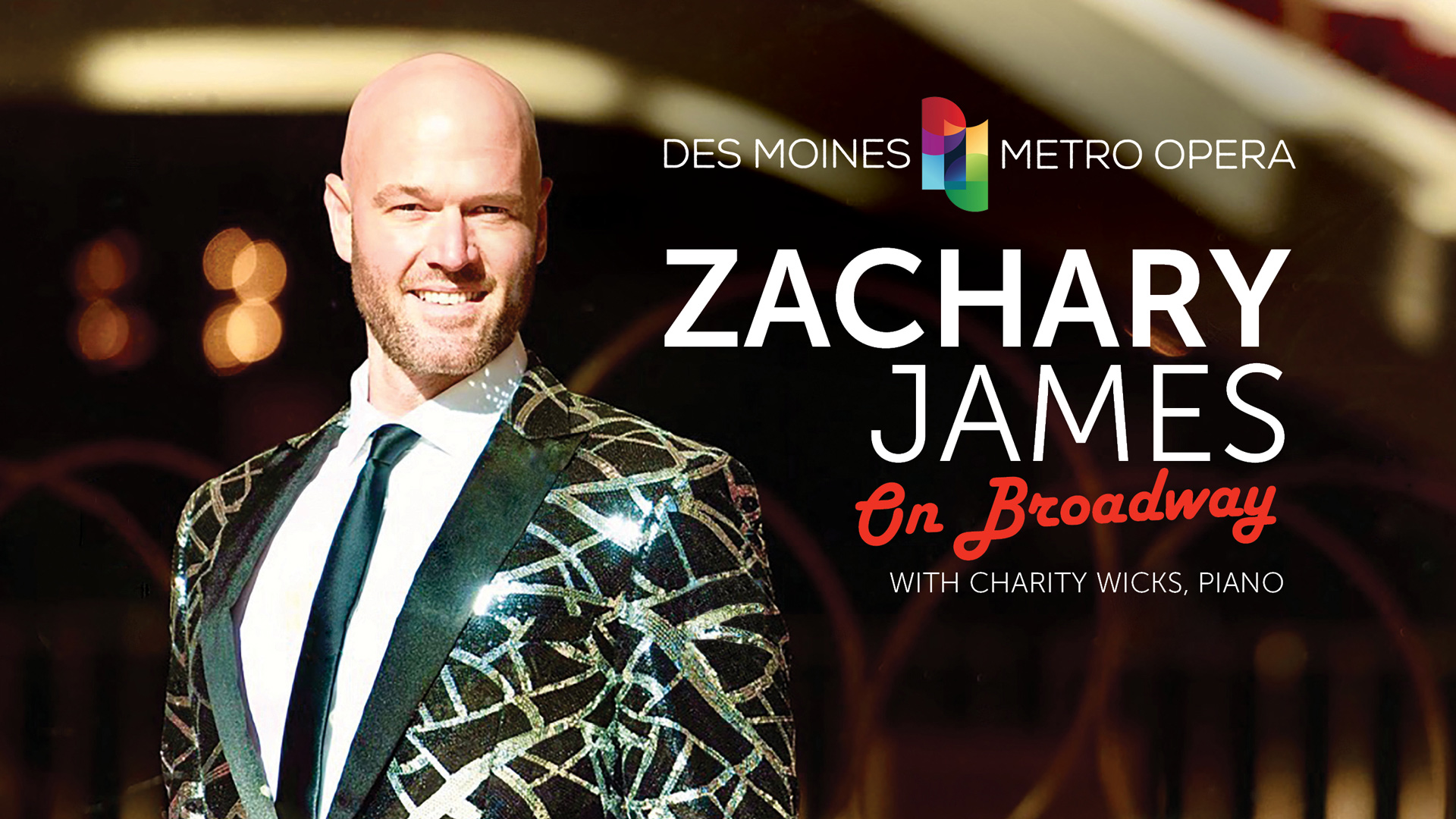 Des Moines Metro Opera Presents Zachary James on Broadway on March 19
INDIANOLA, IA — Des Moines Metro Opera's (DMMO) Virtual Concert Series continues next month with Zachary James on Broadway, which premieres Friday, March 19 at 7:30pm (CST). The virtual program features bass-baritone Zachary James alongside Broadway pianist Charity Wicks in an award-winning one-man show, which earned Mr. James "Performer and Vocalist of the Decade" awards from Broadway World Hawaii. The concert combines tales from his time in the Tony Award-winning revival of South Pacific at the Lincoln Center, his portrayal of "Lurch" in the original cast of The Addams Family, as well as performances of the greatest hits from Broadway favorites. DMMO audiences will remember Mr. James from his roles as John Claggart in Billy Budd (2017), Vodník in Rusalka (2018), the Immigration Officer in Flight (2018), and the Doctor in Wozzeck (2019). He returns to DMMO this summer to make a role debut as Jupiter in Rameau's Platée. The March 19 concert will conclude with an interactive online post-show reception with Mr. James.
To enhance the virtual experience, Des Moines Metro Opera is excited to partner with the Tangerine Food Company to provide the Dinner-to-Go! package, which includes a gourmet three-course dinner with appetizer, entrée, and dessert. The Dinner-to-Go! package is available for pick-up or delivery within Des Moines.
Tickets for the Zachary James on Broadway concert and reception are $25 per screen. The performance will be available to stream for repeat viewings through March 31. Tangerine's Dinner-to-Go! Package is $35 per person. Tickets may be ordered online at desmoinesmetroopera.org/broadway or by calling the DMMO Box Office at (515) 961-6221.


THE IMAGERY
Concert imagery, artists headshots and DMMO logos may be found in the press release DROPBOX.
THE ARTISTS
Zachary James, described as a "true stage animal" by Opera News is an international opera, concert and cabaret singer, stage and screen actor and recording artist known for his "huge, robust bass" which "resonates with force" (Bach Track), "tremendous power and presence" (The Arts Desk, London) and "intrinsically beautiful", "cavernous bass" with "oomph and range" (Opera News). Zach was named as the BroadwayWorld 1010-2020 Vocalist and Performer of the Decade, the 2019 Breakout Opera Artist of the Year by Verismo Magazine, The Most Innovative Opera Singer of 2019 by The Classical Post and was identified as an industry leader and accepted an invitation to become and official ambassador for Opera America. Zach started his career on Broadway and made his entrance into the opera world creating the role of Abraham Lincoln in the world premiere of Philip Glass's opera The Perfect American at the Teatro Real in Madrid, a role he reprised for London's English National Opera and Australia's Opera Queensland and the Brisbane Festival. A winner of the Lotte Lenya Competition, Zach has been engaged by London's English National Opera (Amenhotep III in the Olivier Award Winning production of Akhnaten, Abraham Lincoln in The Perfect American), Spain's Teatro Real and Australia's Opera Queensland (Abraham Lincoln in The Perfect American), LA Opera (Amenhotep III in Akhnaten), Opera Philadelphia (Terry in the world premiere of Missy Mazzoli and Royce Vavrek's Breaking the Waves), Des Moines Metro Opera (John Claggart in the Emmy Award winning broadcast production of Billy Budd, Vodnik in Rusalka), Arizona Opera (Fafner in Das Rheingold), Fort Worth Opera (The Ghost in Mark Adamo's Avow), Opera Roanaoke (Olin Blitch in Susannah, Osmin in Die Entführung aus dem Serail, Alidoro in La cenerentola, Judge Turpin in Sweeney Todd), Opera Ithaca (Bluebeard in Bluebeard's Castle, Pirate King in The Pirates of Penzance, Il Commendatore in Don Giovanni), Shreveport Opera (Pirate King in The Pirates of Penzance), Anchorage Opera (Pooh-Bah in The Mikado), Union Avenue Opera (The Mikado in The Mikado), Schlossoper Haldenstein, Switzerland (Sparafucile in Rigoletto), Teatro Citta della Pieve (Oberon in the world premiere of Kristin Hevner's Il Sogno), Central City Opera (Il Commendatore in Don Giovanni), Ash Lawn Opera (Il Bonzo in Madama Butterfly) and Knoxville Opera (Il Bonzo in Madama Butterfly, Gideon March in Little Women, Joe in The Most Happy Fella), Phoenicia International Festival of Voice (Howard in Do Not Go Gentle), Prototype Festival NYC (Señor del Norte in La Reina), Metropolis Opera Project (Oberon in the USA premiere of Il Sogno), Chutzpah Festival (Rebbe in A Blessing on the Moon), American Lyric Theatre (Mr. Beauregard in The Golden Ticket) and Illuminarts Miami (Bass Soloist in The Little Matchgirl Passion). 2018 debuts include the role of Frank Maurrant in Street Scene with Virginia Opera, Zaccaria in Nabucco with Union Avenue Opera, Fafner in Das Rheingold with Arizona Opera, The Ghost in Avow with Fort Worth Opera and more. In 2019 Zach returned to English National Opera for Akhnaten, made his Nashville Opera debut as the Four Villains in Les Contes D'Hoffmann and returned to Des Moines Metro Opera to play the Doctor in Wozzeck. Zach made his Metropolitan Opera debut in their 2019/2020 season reprising the role of Amenhotep III in the Olivier Award winning production of Akhnaten and returned to Opera Philadelphia to play The Cook in The Love For Three Oranges. Cancelled or postponed productions due to the ongoing Covid-19 global pandemic include Zach's Minnesota Opera debut in the world premiere of Edward Tulane, Florentine Opera debut as Banquo in Macbeth, Beethoven 9 with the Cape Symphony and Southern New Jersey Philharmonic and returns to Des Moines Metro Opera to sing Jupiter in Platee and Virginia Opera for The Pirates of Penzance. Notable future engagements include the title role in Sweeney Todd with Opera Omaha, a return to The Metropolitan Opera for Akhnaten and a debut with Dallas Opera.

A Minnesota native, Charity Wicks earned Bachelor of Music and Master of Music from Temple University in Philadelphia. She also holds a Doctor of Musical Arts, specializing in instrumental accompanying, from the prestigious Manhattan School of Music. She is noted as a versatile musician who is at ease with all styles of music, from classical and sacred to musical theater. She has played with chamber groups all over North America and has appeared in Wall to Wall Bach at New York City's Symphony Space, and also at the Boston Early Music Festival. She also has been a music director, conductor, and pianist with several Broadway musicals, including Wicked, Nice Work If You Can Get It, Spring Awakening, and the national tour of Billy Elliot, among others. She is also a regular music director with the Brooklyn-based American Opera Projects and at NYU's Graduate Musical Theatre Writing Program.
THE COMPANY
Lauded by the Chicago Tribune as "one of the most enterprising summer opera fests in the nation," Des Moines Metro Opera is a progressive opera company located in the heart of Iowa that has taken its place among America's leading opera festivals. Founded in 1973, it is one of the largest performing arts organizations in Iowa, annually producing over 100 performances in the metro area and across the region. In 2019, over 94,000 people experienced Des Moines Metro Opera programming via mainstage performances, educational programs and statewide television and radio broadcasts.
More information about Des Moines Metro Opera is available at www.desmoinesmetroopera.org. Follow Des Moines Metro Opera on Facebook, Instagram, Twitter and YouTube!

# # #
---