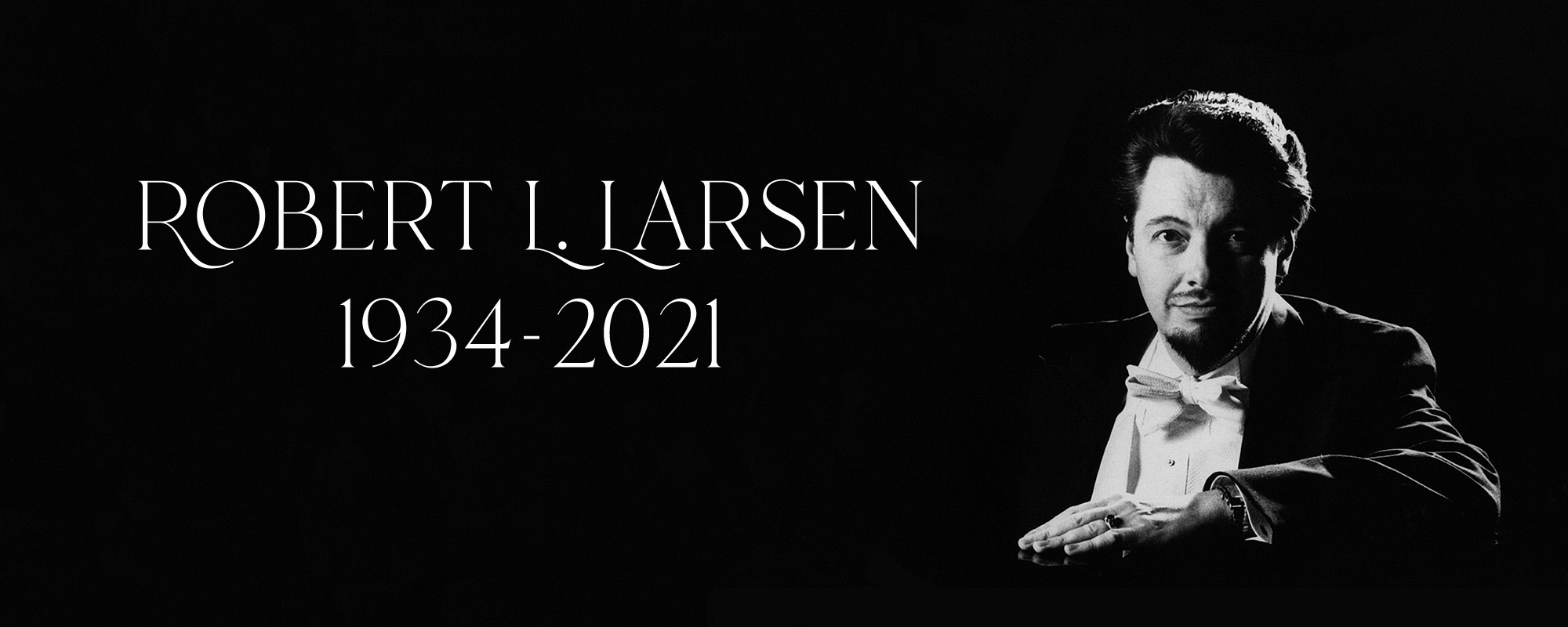 With heavy hearts, Des Moines Metro Opera shares the loss of our beloved Founder and Artistic Director Emeritus, Robert L. Larsen. He passed away peacefully in Indianola on Sunday, March 21, 2021. Our hearts go out to his family, friends and former students at this time of immense sorrow.

Visionary conductor and stage director Robert Larsen was born in Walnut, Iowa, in 1934. Against the backdrop of that rural Iowa community, he developed an unlikely interest in opera. Early in his career, he declined an offer from the Metropolitan Opera in order to remain in his home state to share his love for music and theatre with his fellow Iowans. Dr. Larsen believed that quality performances of great music should not exist exclusively in America's largest cities, but could belong to everyone. With that in mind, in March of 1973 and with little time to spare, he selected opera titles, hired singers, formed a board of directors and raised $22,000 to launch Des Moines Metro Opera just a few months later on June 22, 1973. That first season, professional singers worked alongside his students to create something out of nothing via sheer determination and loyalty to their beloved leader. Larsen served as Conductor and Stage Director for every one of the nearly 120 productions for the Company's first 38 seasons – an unparalleled accomplishment in American music. He worked and collaborated with more than a thousand singers, orchestra musicians, designers, technicians, and he motivated colleagues to reach the peak of their own capabilities. Today as the company he founded approaches its 50th Anniversary Season, he remained immensely proud of its next generation and the Company's continued success following his retirement in 2009.

His love of Iowa and great music was boundless. Nothing delighted him more than great singing and marvelous young voices. His passion for music-making inspired all those who had the opportunity to work alongside him including artists, colleagues, students and members of the community. He instilled in them the same awe and wonder that surrounded his earliest memories of music and the joys of his life. The strength of his vision to bring quality opera performances to Iowa brought thousands of people to this magnificent art form, forever changing the lives of so many. He will live on in our hearts forever.
Memorial Services
Visitations will be held on Friday, March 26, from 3-8pm at the Overton Funeral Home in Indianola and on Saturday, March 27, from 9:00-10:30am at the First Presbyterian Church in Walnut, IA. Due to the coronavirus pandemic, no public graveside service is planned. When it is safe to do so, Des Moines Metro Opera will host a Memorial Concert to celebrate this extraordinary life. Further details will be available at a later date.
Memorial
In lieu of flowers, memorial contributions can be made to the Robert L. Larsen Scenic Fund at the Des Moines Metro Opera Foundation, which provides annual funding to support the design and construction of new scenery and original productions each season.
The year was 1984. I had just moved from Chicago to Des Moines when friends invited Stanley and me to a Metro Opera performance. Having cut my teeth opera-wise on performances of Lyric Opera of Chicago, you can never know how stunned I was to discover the outstanding opera produced in Indianola, Iowa. I remember thinking to myself...no amateur organization here! I wanted to stand up and shout to the audience, -Do any of you know how fortunate you are to see opera of this caliber - in an intimate 467 seat theater no less?!- I admired you to the...
– Mary Seidler
Read more
Dr. Larson was always to gracious with my students when I brought them to Peanut Butter and Puccini. For many of these southeast Iowa students, it was not only their first time experiencing opera, it was also the first time they had been inside a professional theater. And then to be given the opportunity to meet and shake hands with a legend (and I do not use that term loosely) who took time to genuinely converse with them was something they held onto for a very long time--perhaps even a lifetime.
– JacquelineThompson
I met Robert in January 1977 and joined the company as assistant director for La Traviata. That first season lead to a 40 year career.

I owe Robert everything.

Rest in eternal peace, dear friend.

-Bill
– William Farlow
I played with the DMMO orchestra for 19 seasons - 11 of them with Dr. Larsen at the helm. So many good memories - for many seasons, my timpani were placed next to the area where the conductor would enter the pit, and Dr. Larsen would come up early and sit for a few minutes before the show began - we had many short but good visits. We'd talk about the opera and music and general and I learned a lot from his observations. We did Gounod's "Faust" in 2003 - and he conducted it with such passion - epecially...
– Andrew Simco
Read more