---
The Wine, Food & Beer Showcase returns to downtown Des Moines on April 28
Monday, April 11, 2022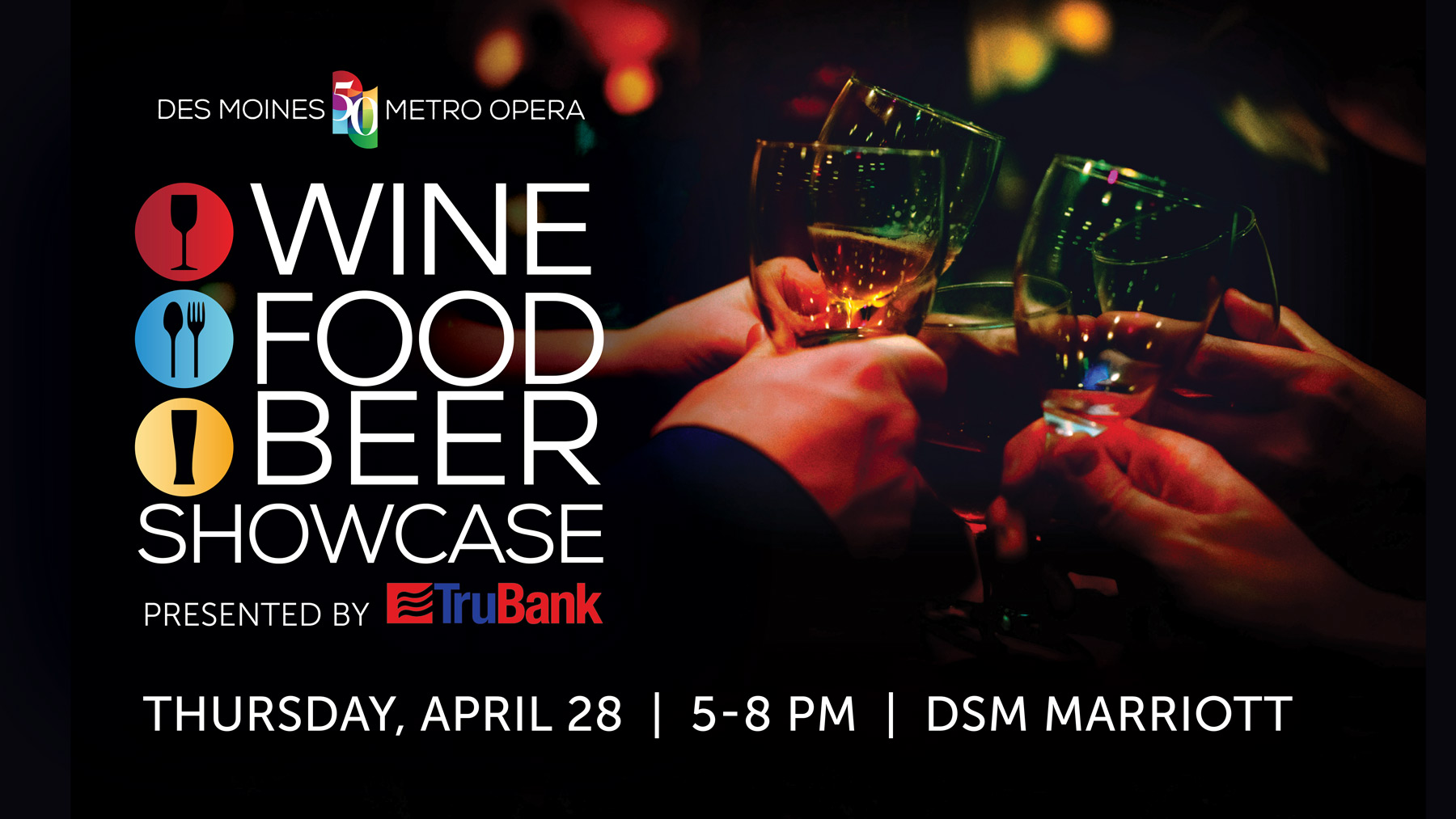 Des Moines, IA — Des Moines Metro Opera's annual food and beverage fundraiser, the Wine, Food & Beer Showcase, will be held on Thursday, April 28 at the downtown Des Moines Marriott from 5:00-8:00pm. Featuring over 33 vendors from around the metro and across the state, including 17 restaurants, caterers and food trucks, 5 wineries, 8 breweries, 1 cider house and 4 distilleries, the Wine, Food & Beer Showcase, presented by TruBank, is one of the oldest tasting events of its kind in the metro and is Des Moines Metro Opera's biggest annual fundraiser, supporting the opera's award-winning music education and community engagement programming.
The event features two ticket options: The Grand Showcase ($50 advance/$60 at-door) and the Reserve Experience ($150 ticket). In the Grand Showcase, guests spend the evening moving from table to table, sampling delectable and innovative fares and flavors from over 30 Iowa vendors. Tickets are all-inclusive and cost $50 per person if ordered in advance or $60 at the door. For wine lovers, tickets to the Reserve Experience, sponsored by Elder Corporation, can be purchased, granting patrons access to exclusive rare and fine wines from the private collections of members of The Wine Club, paired with high-end culinary creations from the Des Moines Embassy Club, Aura Restaurant and Lounge, Crème Cupcakes, and Chellie's Sugar Shack. The Reserve Experience room features ample seating and elegant décor by Saley Nong of Petals+Moss; this year's Reserve Experience theme is "A Midsummer Night's Dream" in honor of the opera's new production of the show during its upcoming 50th Anniversary Season. Tickets for the Reserve Experience are $150 per person and include access to the Grand Showcase.
In addition to the tastings, patrons may also participate in the evening's raffle and silent auction, which will feature a unique blend of packages ranging from tickets to DSM musical events (Hinterland, 80/35, My Fair Lady at Des Moines Performing Arts, Des Moines Symphony, Iowa Stage Theater), travel experiences (all-inclusive trips to Minneapolis and Cedar Rapids) exclusive cultural experiences (private tour of the Art Center vaults, a private wine tasting for 20, a specialty Botox package) as well as luxury portrait photography sessions, tickets to an Iowa Cubs game in the Faegre Drinker Skybox, tickets to a Minnesota Twins baseball game, tickets to Porgy and Bess and more. All proceeds raised during the silent auction and raffle directly support Des Moines Metro Opera's education division programming, including its flagship program, the OPERA Iowa touring troupe.
For more information or to order tickets, call (515) 961-6221 or visit www.desmoinesmetroopera.org/wfbs/. A complete list of the 2022 Wine, Food & Beer Showcase vendors is included below.
2022 Wine, Food & Beer Showcase vendors:
Food Vendors: 515 Pi, B&K Burgers and BBQ, Chocolaterie Stam, Country Club Market, The Culinary Nomad, Des Moines Marriott, Doré Bakery, Gateway Market, Maytag Dairy Farms, Purveyor, Sweet Swirls Ice Cream, Tupelo Honey Southern Kitchen & Bar, What the Fries DSM, Zora
Wine Vendors: Global Wines of Iowa, Jasper Winery, Johnson Brothers of Iowa, Okoboji Wines, Southern Glazer's of Iowa
Beer Vendors: Big Grove Brewery, Confluence Brewing Company, Exile Brewing Company, Firetrucker Brewery, Keg Creek Brewing Company, Mistress Brewing Company, Peace Tree Brewing Company, West Hill Brewing Company

Hard Cider: Fishback & Stephenson Cider Room
Spirit Vendors: Cedar Ridge Whiskey, Foundry Distilling Company, IA-Native Spirits, Iowa Distilling Company
Reserve Experience Vendors: Aura Restaurant and Lounge, Chellie's Sugar Shack, Crème, Des Moines Embassy Club, The Wine Group



IMAGERY
High-resolution and web-ready imagery and logos can be found by following this link to our Press dropbox:
https://www.dropbox.com/sh/lxe2jjbr72kb1n4/AABm-yidyAFBM3wL9xGZKFvEa?dl=0

ABOUT DES MOINES METRO OPERA
Lauded by the Chicago Tribune as "one of the most enterprising summer opera fests in the nation," Des Moines Metro Opera is a progressive opera company located in the heart of Iowa that has taken its place among America's leading opera festivals. Founded in 1973, it is one of the largest performing arts organizations in Iowa, annually producing over 100 performances in the metro area and across the region. Des Moines Metro Opera's 50th Anniversary Season includes the Iowa premiere of the Komische Oper Berlin's production of Mozart's The Magic Flute in early March, and the summer festival includes a new production of Benjamin Britten's A Midsummer Night's Dream, the Iowa premiere and new production of The Gershwins' Porgy and Bess, the world premiere of Kuster/Campbell's A Thousand Acres, and the live performance premiere of Geter/Palmer's American Apollo.

More information about Des Moines Metro Opera is available at www.desmoinesmetroopera.org. Follow Des Moines Metro Opera on Facebook, Instagram, Twitter and YouTube!


# # #
---