---
DMMO announces world premiere opera and $1.5 million gift
Thursday, April 29, 2021
April 29, 2021

Contact:
Scott Arens, Director of Marketing and Public Relations
(515) 209-3255 | sarens@dmmo.org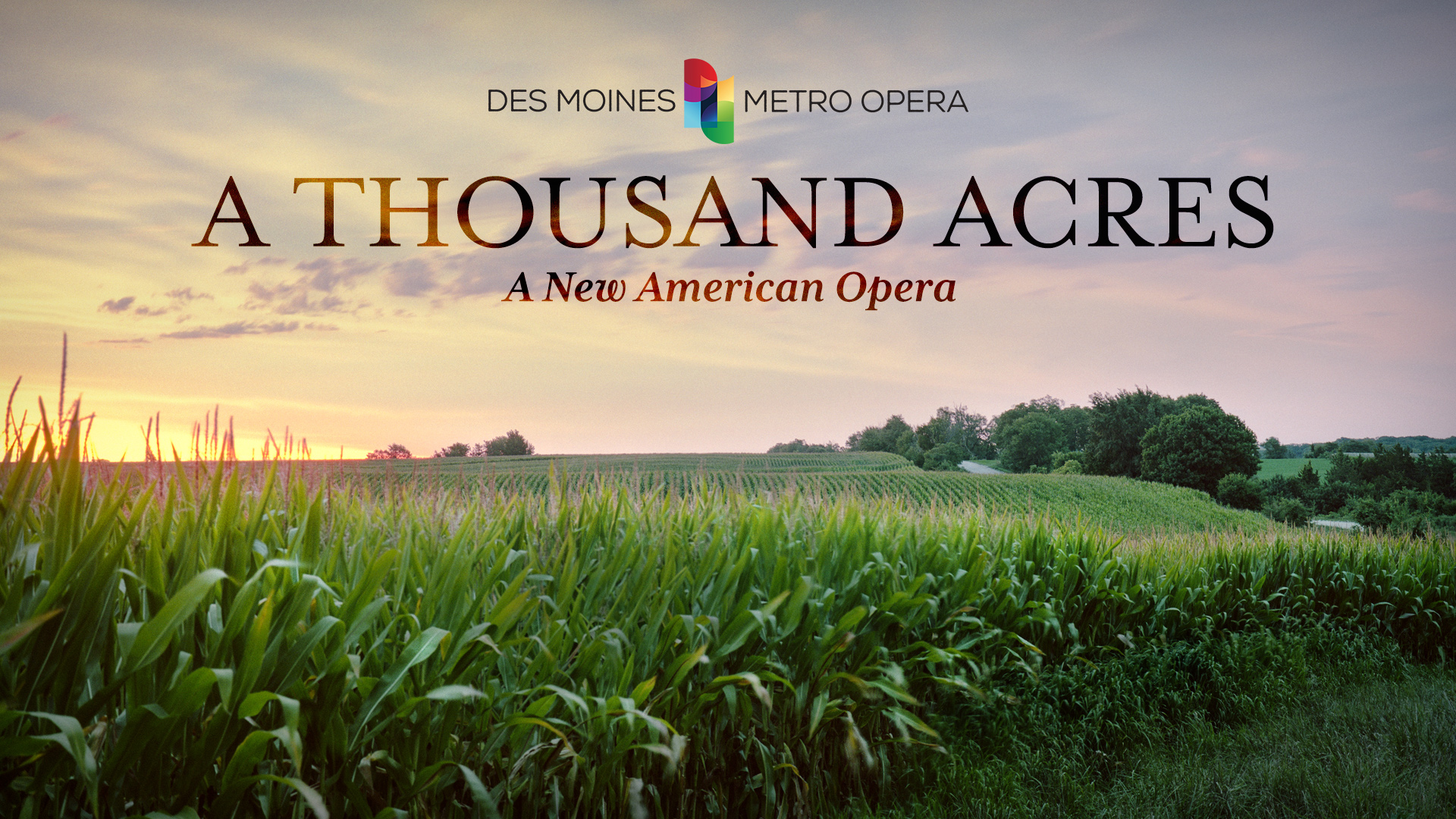 Des Moines Metro Opera Announces World Premiere Opera and Leadership Gift of $1.5 Million

Indianola, IA — On July 9, 2022, Des Moines Metro Opera (DMMO) will add a new American work to the operatic canon with its world premiere of A Thousand Acres with music by Kristin Kuster and libretto by Mark Campbell. The evening-length work is based on Jane Smiley's 1991 Pulitzer Prize-winning novel of the same name and will be a centerpiece of DMMO's 50th Anniversary Season in 2022. Set on an Iowa farm in the late 1970s, this powerful reimagining of Shakespeare's King Lear was awarded the National Book Critics Circle Award and the Ambassador Book Award for Fiction. "As this seminal novel approaches its 30th anniversary later this year, the occasion is right to bring the words of a major American novelist to life on the opera stage," said Michael Egel, General and Artistic Director. "The choice of A Thousand Acres for an opera company in Iowa is the perfect melding of subject and locale and an ideal one for us in celebration of our 50th Anniversary. The novel is perfectly placed in history to receive an operatic treatment – modern enough that we know these characters and their stories but just distant enough to provide some perspective and lend the story a universality that will make it an enduring contribution to the American repertory." The production will be led by Marshall and Judy Flapan Music Director and Principal Conductor David Neely and envisioned for the stage by director and dramaturg Kristine McIntyre.
In support of A Thousand Acres, the company has received a $1.5 million leadership gift from Linda and Tom Koehn in anticipation of the Company's upcoming 50th anniversary campaign. Linda Koehn is a past president of the board and was a 2020 recipient of Opera America's National Opera Trustee Recognition Award. She and Tom are admired benefactors of the arts community in Des Moines. "We are honored to represent the breadth of support for Des Moines Metro Opera on the occasion of its 50-year anniversary. For us, it is a celebration of the many people for whom story telling through opera in Iowa is a deeply personal commitment," said Linda. The Koehns' leadership gift creates an endowed position, the Linda Koehn General and Artistic Director, currently held by Michael Egel. "I am honored by Linda and Tom's extraordinary generosity. This gift is both transformational and personal," said Egel. "During her tenure as president of the board, Linda was an early advocate for me. I still rely on her counsel and advice. It was on her suggestion that I first read A Thousand Acres. She was instrumental in its selection as our world premiere opera."
ABOUT A THOUSAND ACRES
Based on the Pulitzer Prize-winning novel by Jane Smiley, A Thousand Acres is a modern retelling of King Lear set on a farm in Iowa in the late 1970s told from the point of view of Ginny, the oldest of three daughters. Larry Cook, a prominent farmer, announces at a family gathering that he has decided to divide the thousand acres between his three daughters. While Ginny and Rose acquiesce to their father's wishes, Caroline demurs and enrages her father. Ginny tries to hold the family together but Rose, recovering from cancer treatment and fearful for the fate of her two daughters, is unrepentant in her criticism both of Caroline's selfishness and Larry's bullying nature. As Larry descends into rage and dementia, all the buried family secrets are finally laid bare. When Rose forces Ginny to confront secrets of the past, Ginny realizes that nothing on the farm can ever be as it was.
A Thousand Acres is family drama writ large. It is a story with great scope and broad appeal with distinctive female characters that explores ideas of family conflict, patriarchy, legacy and the strength and fragility of the ties that bind us together, all told through the eyes of its central female protagonist. Learn more > Watch the preview >
"A family portrait that is also a near-epic investigation into the broad landscape, the thousand dark acres of the human heart…The book has all the stark brutality of a Shakespearean tragedy."
– The Washington Post Book World
"It has been a long time since a novel so surprised me with its power to haunt…A Thousand Acres [has] the prismatic quality of the greatest art." – The Chicago Tribune
"Powerful and poignant." – The New York Times Book Review
ABOUT JANE SMILEY
Jane Smiley (born September 26, 1949) is an American novelist known for her lyrical works that center on families in pastoral settings. Smiley studied literature at Vassar College (B.A., 1971) and the University of Iowa (M.A., 1975; M.F.A., 1976; Ph.D., 1978). From 1981 to 1996 she was a professor of English at Iowa State University. She subsequently turned to writing full-time.

"This opera will be thrilling and affecting. I love this music, too. It is a must see!" said Smiley.
Her first novel, Barn Blind (1980), focuses on the relationships between a mother and her children. Duplicate Keys, a mystery novel, appeared in 1984. The Greenlanders (1988) is a sweeping epic centred on a 14th-century family, the Gunnarssons. A Thousand Acres (1991; film 1997), which won a Pulitzer Prize, is Smiley's best-known novel. Modeled on William Shakespeare's King Lear, it focuses on the Cook family and farm life in Iowa in the 1980s. Smiley's subsequent novels included Moo (1995), a satire of academia; Horse Heaven (2000), about horse racing; Ten Days in the Hills (2007), a reworking of Giovanni Boccaccio's Decameron set in Hollywood; and Private Life (2010), which examines a woman's marriage and interior life. Some Luck (2014), which covers 33 years in the history of the Langdons, a farming family, was the first entry in a trilogy. Early Warning and Golden Age (both 2015), the second and third volumes, were similarly expansive narratives about subsequent generations of the Langdon clan. In 2020 Smiley published the lighthearted Perestroika in Paris, about a racehorse that wanders the French city, making a number of animal friends. She also wrote The Georges and the Jewels (2009), a young adult novel.
Among Smiley's nonfiction works are a biography of Charles Dickens (2002) and A Year at the Races (2004), a memoir of her experiences as a racehorse owner. Thirteen Ways of Looking at the Novel (2005) is a highly personal study of the form and function of the novel. Smiley was elected to the American Academy of Arts and Letters in 2001. In 2006 she won the PEN USA Lifetime Achievement Award for Literature.

ABOUT KRISTIN KUSTER
Composer Kristin Kuster "writes commandingly for the orchestra," and her music "has an invitingly tart edge" (The New York Times). Her colorfully enthralling, lush and visceral compositions take inspiration from architectural space, the weather and mythology. Based in Ann Arbor, Kuster is an associate professor and chair of composition at the University of Michigan School of Music, Theatre & Dance.
"I am delighted to be a part of this epic project. The libretto that Mark Campbell has woven and spun from Jane Smiley's novel, coupled with the vision of Kristine McIntyre for the production, is an enormous gift to all of us engaged in this work. I'm eager to hear and see it come to life next year," said Kuster.
Recently she received an OPERA America Discovery Grant for female composers, made possible through The Virginia B. Toulmin Foundation. Upcoming and recent premieres of Kristin's music include works for the Baltimore Symphony Orchestra, the Detroit Symphony Orchestra, the Cabrillo Festival of Contemporary Music, the Cincinnati Symphony Orchestra, the United States Air Force Heritage Brass Ensemble, Philadelphia-based Network for New Music, the Colorado Music Festival Orchestra and the Lisbon Summerfest Chamber Choir. Her music has received support from such organizations as the American Academy of Arts and Letters, the Sons of Norway, American Composers Orchestra, League of American Orchestras, New Music USA, American Opera Projects, the Jerome Foundation, and the Jack L. Adams Foundation.

ABOUT MARK CAMPBELL
The work of Pulitzer Prize and Grammy Award-winning librettist/lyricist Mark Campbell is at the forefront of the contemporary opera scene in this country. Campbell has written 39 opera librettos, lyrics for seven musicals and text for five song cycles and two oratorios. His best-known works are Silent Night, The (R)evolution of Steve Jobs, Sanctuary Road, As One, The Shining, Elizabeth Cree, Stonewall, Burke & Hare, Later the Same Evening, Volpone, Rappahannock County, Bastianello/Lucrezia, and the musical Songs from an Unmade Bed.
"It's hard to imagine a more ideal confluence of forces in the creation of this opera: a riveting narrative told by one of America's greatest novelists, a composer of profoundly moving music, a stage director with a proven record of expert musical storytelling and a well-regarded opera company that understands how important this story is to both its community and the world. I couldn't be prouder to be a part of this team," said Campbell about A Thousand Acres.
Campbell is the recipient of numerous other prestigious awards, including the first Kleban Foundation Award for Lyricist, two Richard Rodgers Awards from the American Academy of Arts and Letters, a Jonathan Larson Foundation Award, a New York Foundation for the Arts Playwriting Fellowship, and the first Dominic J. Pelliciotti Award. He also mentors future generations of opera composers and librettists through such organizations as the American Opera Project, American Lyric Theater and the American Opera Initiative and recently created and is funding the Campbell Opera Librettist Prize — the first award in the history of the art form devoted to the librettist. Upcoming premieres include Edward Tulane for Minnesota Opera, A Nation of Others for the Oratorio Society of New York, The Secret River for Opera Orlando, Supermax for Opera Saratoga and Les Girls for Théatre du Châtelet.

ABOUT ACRES UNEARTHED
Inspired by Des Moines Metro Opera's world premiere of A Thousand Acres, artists, scholars and community members will come together throughout 2021-2022 for a series of events that will explore the themes and connections presented by the novel. Themes such as family, patriarchy, the passing of land through generations and the strength and fragility of the ties that bind us together provide fertile ground for exploration. Examining the themes of King Lear through a modern lens as told from the point of view of Lear's daughters gives voice to women's stories and an opportunity to celebrate female artists and viewpoints.
A series including photographic exhibits, art shows, panel discussions, plays, book clubs and site-specific events will also feature opportunities to hear samples of the new opera and to connect live performance and literature with the Iowa landscape. A highlight of the Acres Unearthed series will be the 30th Anniversary of the publication of the novel on October 23, 2021. More details will be available in Fall 2021.
THE CAST
Mezzo-soprano and audience-favorite Elise Quagliata returns to create the role of Ginny, and soprano Sara Gartland will sing the role of Rose. Patriarch Larry Cook will be sung by tenor Roger Honeywell. Baritone and Iowa native John Moore will sing the role of Jess. Baritone Keith Phares makes his mainstage debut as Ginny's husband Ty. Additional casting information will be available at a later date.
THE 2022 SEASON
The 2022 Summer Festival Season will represent the 50th Anniversary of Des Moines Metro Opera, founded in 1973. A Thousand Acres will be the third opera of a three-opera mainstage season. Additional productions and other information regarding the 50th Anniversary Season will be announced soon. DMMO recently released updated plans for its 2021 Summer Festival Season, which can be found here.
NEW & AMERICAN OPERAS AT DES MOINES METRO OPERA
Des Moines Metro Opera has a strong history of presenting contemporary American opera throughout its 50-year history. In its first decade, the company produced what are now considered to be classic American operas but while many of those works were still quite new or rare on the opera stage, including The Crucible, The Medium, Susannah, The Consul, The Ballad of Baby Doe, Of Mice and Men, The Saint of Bleeker Street, Regina, Summer and Smoke, Street Scene, Vanessa, Candide and Amahl and the Night Visitors. Many of these American titles have been produced more than once on the mainstage. The company commissioned and produced the world premiere of Lee Hoiby's The Tempest in 1986.
More recently, the company has affirmed its commitment to contemporary opera by presenting Dead Man Walking and Flight on the mainstage, as well as Soldier Songs, Three Decembers, Rappaccini's Daughter, Glory Denied, As One, Galileo Galilei and Fellow Travelers in its 2nd Stages series, often in exciting site-specific productions in and around the Des Moines metro area.

THE COMPANY
Lauded by the Chicago Tribune as "one of the most enterprising summer opera fests in the nation," Des Moines Metro Opera is a progressive opera company located in the heart of Iowa that has taken its place among America's leading opera festivals. Founded in 1973, it is one of the largest performing arts organizations in Iowa, annually producing over 100 performances in the metro area and across the region. In 2019 over 94,000 people experienced Des Moines Metro Opera programming via mainstage performances, educational programs and statewide television and radio broadcasts. The opera's 2021 Festival Season, which runs July 2-25, includes Sondheim's Sweeney Todd, Tchaikovsky's The Queen of Spades, Rameau's Platée, Spears/Pierce's Fellow Travlers, and a special artist recital, The John Holiday Experience. More information about Des Moines Metro Opera is available at www.desmoinesmetroopera.org. Follow Des Moines Metro Opera on Facebook, Instagram, Twitter and YouTube!

IMAGERY
A Thousand Acres imagery as well as DMMO logos and additional materials may be found in the following Dropbox: https://www.dropbox.com/sh/419fm5xxstm1w7d/AADaK_icZfhWU_A-WLYHfpFTa?dl=0

# # #
---